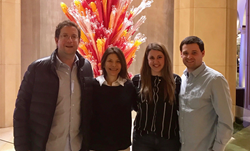 Defeating head lice outbreaks at summer camps requires continual vigilance.
Atlantic City, NJ (PRWEB) March 28, 2017
The Lice Treatment Center® booth at the annual American Camp Association's Tri-State Camp Conference in Atlantic City March 13-16, was a busy spot this year. Liz Solovay and Adrian Picheny, the firm's managing partners, and their team of professional staff discussed strategies for preventing outbreaks among camp communities during the upcoming 2017 camping season. "Lice infestations at some residential camps can cause major disruptions to carefully planned camp activities. Major outbreaks affect campers and staff alike… lice are equal opportunity pests," Ms Solovay told camp administrators.
The staff at the LTC® booth at the ACA Tri-State Camp Conference in Atlantic City were all experienced leaders of LTC's Camp Lice Insurance™ Program. They lead teams of professional lice technicians to camps throughout the Eastern U.S.(from Maine and the Berkshires to New York and West Virginia) conducting head checks and treating any cases of head lice they uncover. Adrian Picheny, Director of Camp programs, said, "It's interesting to note that head lice outbreaks are more common at camps whose campers have come from long distances on public transportation or had close contact with crowds of people from all over the world."
The LTC staff each offered examples of how the many tri-state camps they serve now mitigate serious lice outbreaks by contracting with LTC's professional technicians to conduct head lice checks periodically throughout the camp season. Ms Solovay said, "We have found the best prevention strategy involves continual vigilance. That is, conducting periodic checks of campers and staff on opening day, at mid- summer and just prior to the end of camp sessions. Camps with multiple sessions generally schedule head checks to coincide with the beginning, middle and end of each session. The important thing is to screen campers carefully and often so that one case of head lice doesn't spread, creating a major infestation throughout the whole camp."
"The old saying that 'an ounce of prevention is worth a pound of cure' is really true when it comes to head lice," said Mr. Picheny. "We are proud that camps that participate in our Lice Insurance™ Programs are successful in controlling the spread of head lice among campers and staff who have either been checked and cleared or checked and treated by our professional technicians."
For more information on LTC's Camp Lice Insurance Program, visit http://www.licetreatmentcenter.com/camp-lice-insurance or call 1-888-LICEAWAY/1 888 542 3292.