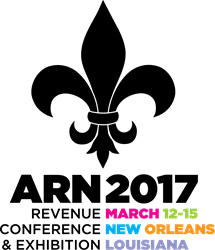 "The ARN Awards annually recognize airports and operators for the work they've done in food, retail and customer service," says Ramon Lo, publisher at ARN. "This year's winners are truly deserving."
New Orleans, Louisiana (PRWEB) March 24, 2017
The ARN Awards, which recognize excellence in the airport concessions industry, were presented on the final night of Airport Revenue News' annual conference at the Hyatt Regency in New Orleans.
"The ARN Awards annually recognize airports and operators for the work they've done in food, retail and customer service," says Ramon Lo, publisher at ARN. "This year's winners are truly deserving."
The awards process began in September 2016 and involved the entire airport industry in soliciting nominations. The industry then helped in short-listing a group of finalists in each category. A committee of industry professionals voted to determine the ultimate winners.
For the second year in a row the awards program included a separate set of awards presented by USA TODAY – its 10Best Readers' Choice Awards. This set of awards was developed in partnership with ARN to allow the traveling public the opportunity to weigh in on categories such as the best airports for dining and shopping, as well as restaurants and stores noted for being travelers' favorites with regards to local dining and shopping, atmosphere and customer service.
"We are excited to be able to recognize the 2017 winners in the USA TODAY 10Best Readers' Choice Airport awards," says Travis Seward, VP of 10Best.com. "Our readers are looking for the trusted experiences while traveling, and these winners represent the best of what airports offer."
All winners will be featured in the April issue of ARN. The issue will also recap the highlights of the 2017 conference.
Below is a comprehensive list of the categories and winners.
ARN Awards
Property Manager of the Year
Elizabeth Grzechowiak
Airport with the Best Customer Service
Large: Dallas/Fort Worth International
Medium: San Diego International
Small: Indianapolis International
Airport with the Best Management Team
Large: San Francisco International
Medium: Portland International
Small: Pittsburgh International
Airport with the Best Overall Program
Large: Los Angeles International
Medium: Portland International
Small: Indianapolis International
Airport with the Best Program Design
Large: Los Angeles International
Medium: Dallas Love Field
Small: Long Beach
Airport Restaurant Bar of the Year
Large operator: Tootsie's Orchid Lounge by Delaware North
Small operator: Jack Duggan's Pub & Restaurant by Jack Duggan's
Best Airport Restaurant Design
Large operator: Page by OTG -- DCA Terminal A
Small operator: Eastern Market by Midfield Concessions Enterprises -- DTW McNamara Terminal
Best Chef-Driven, Local or Regional Restaurant
Large operator: Matt's Big Breakfast by SSP America
Small operator: Stumptown Coffee Roasters by LaTrelle's Management
Best DBE Operator
LaTrelle's Management
Best Food & Beverage Brand Restaurateur
Large restaurateur: SSP America
Small restaurateur: High Flying Foods
Best Franchisor
Dunkin' Donuts
Best Innovation
Grab Mobile App by Grab
Best Local or Regional Retail Store
Large retailer: Gallery Eppley by Hudson Group
Small retailer: Greetings from Colorado by Avila Retail Development and Management
Best New Food & Beverage Concept
Large operator: Avenue des Canadiens by HMSHost Corp.
Small operator: Artisan Market by High Flying Foods
Best New Specialty Retail Concept
Large retailer: The Miles Shop by OTG
Small retailer: Naturally Inspired by Naturally Inspired
Best Overall Food & Beverage Restaurateur
Large restaurateur: HMSHost Corp.
Small restaurateur: High Flying Foods
Best Overall Retailer
Large retailer: Paradies Lagardère
Small retailer: NewsLink Group
Best Passenger Services
XpresSpa
Best Retail Store Design
Large retailer: Dylan's Candy Bar by Paradies Lagardère -- DFW Terminal D
Small retailer: See's Candies by Pacific Gateway Concessions -- SFO Terminal 3
Best Specialty Retail Brand Operator
Larger retailer: Paradies Lagardère for Brooks Brothers
Small retailer: Marshall Retail Group
Best Travel Convenience Operator
Larger operator: Hudson Group
Small operator: NewsLink Group
Restaurateur with the Highest Regard for Customer Service
Large restaurateur: HMSHost Corp.
Small restaurateur: Vino Volo
Retailer with the Highest Regard for Customer Service
Large retailer: InMotion Entertainment Group
Small retailer: Be Relax
USA TODAY 10Best Readers' Choice Awards
Best Airport Bar
Whisky River - Charlotte Douglas International
Best Airport Bar/Restaurant Atmosphere
Saison - Newark Liberty International
Best Airport Bar/Restaurant Wait Staff
Vino Volo - Austin-Bergstrom International
Best Airport for Dining
Long Beach
Best Airport for Shopping
Toronto Pearson International
Best Airport Grab-and-Go Dining
Earthbar - Los Angeles International
Best Airport Local/Regional Dining
Harry & Izzy's Steakhouse - Indianapolis International
Best Airport Newsstand/Travel Essential
North Loop Market - Minneapolis-St. Paul International
Best Airport Shop for Local Merchandise
Gallery Eppley - Eppley Airfield
Best Airport Sit-Down Dining
Whisky River - Charlotte Douglas International