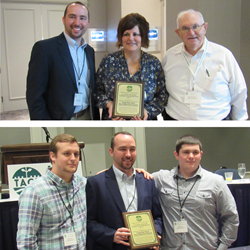 I have never seen anything as powerful as this Drop Collaborative...
Nashville, TN (PRWEB) March 27, 2017
For 73 years the Tennessee Association of Conservation Districts has annually given awards to educators who do an exemplary job of teaching others in their communities about conserving soil, water and all natural resources. The 2017 award for "Conservation Promotion" went to the Unaka High School / Drop Collaborative partnership. Accepting the award were Unaka High School teachers Josh Armentrout, Agriculture and Dr. Melissa Loveless, CTE Principal & Business Technology; Unaka High School Seniors: Jacob Rash and Austin Taylor; and Pattie Meyer, Executive Director, Drop Collaborative.
The Drop Collaborative was founded in June 2015 on the principle that landowners of even modest means can collaborate with and strengthen their community by providing free usage of a portion of their land to (1) teach students farming; (2) donate their harvest to the community; and (3) mentor younger children in this process. Fulfilling all these requirements, Unaka High School students raise produce and animals on the Drop Farm in Carter County. To date they have donated over 1500 lbs. of produce to the local food bank.
The Unaka High School & Drop Collaborative partnership was also recognized statewide in 2016, when it was named one of the top 5 CTE (Career and Technical Education) Models by the TN Dept. of Education and recipient of a Perkins Grant.
The mission of the Drop Collaborative (DC) is to (1) support and maintain the excellence of the Unaka High collaboration utilizing the main 3 principles of the DC, and (2) reach out to other communities and landowners to share with them the benefits, opportunities and educational resources for their own Drop Collaborative. For more information, go to http://www.dropcollaborative.com. Tax deductible donations can be made through the fiscal sponsor, Appalachian RC&D Council (http://www.arcd.org).
Since 1939 and currently serving 95 Districts in East, Middle, and West TN, the mission of Tennessee Association of Conservation Districts is: Helping Soil Conservation Districts conserve and enhance the natural resources of Tennessee through education, leadership and advocacy. Their annual awards are sponsored by Tennessee Department of Agriculture, Farm Credit Mid-America, Tennessee Association of Conservation Districts, Tennessee Conservation District Employee Association, National Association of Conservation Districts, National Resources Conservation Service, and Tennessee Valley Authority.