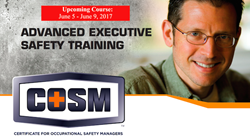 Advanced Executive-Level Safety Training
Swedesboro, New Jersey (PRWEB) March 29, 2017
The Delaware Valley Safety Council seeks to provide world-class safety training to contractors and employees working in industrial facilities in Delaware, New Jersey and Pennsylvania. DVSC continually adds best-in-class training programs to meet the safety-training needs of diverse industrial environments. DVSC's ultimate goal is to have every worker return home safely from work every day.
DVSC is happy to announce the introduction of our newest safety program, "COSM or Certified Occupational Safety Manager." The COSM program is divided into five, 8-hour sessions and can be taken in one week or spread out over the course of a few weeks. This program is designed to enhance the knowledge and skill competencies of executive-level safety managers at their respective companies. Session topics and learning outcomes that can be expected to be gained from COSM include essentials of safety management, strategic planning & evaluating safety success, managing risk & safety finances, communicating the safety message as well as injury management, incentives and discipline. The ultimate goal of COSM is to leave students with the skills to learn to develop strategies for achieving safety-related goals in business environments.
COSM is not meant to replace contractors' and owners' specific training programs, but is meant to enhance knowledge and safety management skills and competencies. As a higher-level course, COSM requires prerequisites that will be verified prior to enrollment acceptance.
The Delaware Valley Safety Council is holding an upcoming course from June 5th- June 9th at our location in Newark, Delaware. There will also be a free information session held from 6-7:30 pm on June 1st at the same location.
To register for the "Certified Occupational Safety Manager" course or gain more information, please visit http://dvsconline.org/public/cosm/ and always remember to think and stay safe!
The Delaware Valley Safety Council
510 Heron Drive, Suite 210
Swedesboro, NJ 08085