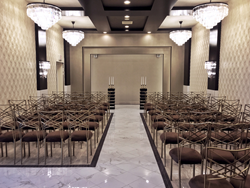 Couples looking for a sophisticated venue to celebrate their commitment to love will appreciate the newly remodeled La Capella Chapel
Las Vegas, Nevada (PRWEB) March 27, 2017
Chapel of the Flowers, the only freestanding wedding chapel of its kind in Las Vegas, will open the remodeled La Capella tomorrow, March 28, with a grand opening celebration. Local dignitaries, bloggers and the media will have a VIP tour of the one acre property which also includes the new Glass Gardens Chapel.
The La Capella Chapel has been transformed into a spectacular contemporary venue with an aisle of marble, an expansive ceiling with modern crystal chandeliers, chairs from the Chameleon Chair Collection®, and elegant wall sconces. Couples looking for a high-end boutique venue similar to what they see on social media, but at an affordable price, are expected to tour and book wedding, vow renewal and commitment ceremonies here, the newest chapel in Las Vegas on the famous Strip. Ceremony dates are available seven days a week.
Chapel of the Flowers offers a variety of customizable packages at La Capella, starting with the Traditional ceremony for $495, which includes flowers, photos, a personal wedding planner and day of wedding coordinator, traditional wedding music, a unity ceremony and video. There is an additional venue fee of $300 for the La Capella Chapel, which seats up to 80 guests, making it one of the "best value" wedding venues in the world.
"Couples looking for a sophisticated venue to celebrate their commitment to love will appreciate the newly remodeled La Capella Chapel." said Nicole Robertson, Director of Operations at Chapel of the Flowers. "This is our latest transformation on the property, and it is a stunning addition to our traditional Victorian Chapel, the glamorous Magnolia, and the enchanting Glass Gardens Chapel. Our guests enjoy the ultimate Vegas wedding experience here with our cobblestone driveway, dramatic double-door entrances and peaceful lobbies. The initial response from couples touring La Capella in advance of the grand opening has been overwhelmingly positive."
Call Chapel of the Flowers today at 702-735-4331 or toll-free at 1-800-843-2410 to inquire about booking the La Capella Chapel, or email info(at)littlechapel(dot)com and a wedding planner will contact you to set up your wedding, renewal of vows or commitment ceremony. Visit Chapel of the Flowers website at http://www.LittleChapel.com for package details.
Ceremonies at Chapel of the Flowers include professional wedding planners and coordinators, state-of-the-art limousine transportation, professional photography and videography and designer floral services. The Chapel employs a staff of nearly 90 on-site employees to ensure that each couple is pampered and that guests receive exemplary service. The one acre venue with waterfalls, gardens, a gazebo and a crystal canopy consistently ranks as one of the top five destinations to see in Las Vegas, according to TripAdvisor.com.
Chapel of the Flowers, located at 1717 Las Vegas Boulevard near the SLS and Stratosphere hotels, has been celebrating love for nearly 60 years. The beautiful and unique indoor and outdoor chapels seat between 20 and 88 guests.
About Chapel of the Flowers
Founded in 1960, Chapel of the Flowers is Las Vegas' highest rated and largest full-service wedding venue, providing traditional, modern and elegant Las Vegas weddings on the world-famous Strip. Nearly an acre of cobblestone-accented grounds and vibrant backdrops are designed to capture every picture-perfect moment of a Las Vegas wedding. Professional wedding planners ensure that every aspect of the wedding day is personal, easy and stress-free. Chapel of the Flowers' impeccable customer service assures the couple that all details of the wedding, including the ceremony, flowers, award-winning photography and reception venues will result in cherished memories for a lifetime. Chapel of the Flowers is honored to be one of the preferred venues in Las Vegas, the wedding capital of the world.
Media Contact
Nicole Robertson
Director of Operations, Chapel of the Flowers
702-735-4331, ext 806
NicoleR(at)littlechapel(dot)com