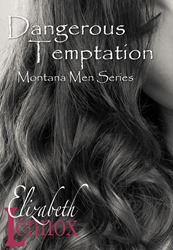 "I hope you enjoy reading the freshest book in my spicy Montana Men series!"
Washington, DC (PRWEB) March 28, 2017
USA Today bestselling romance author Elizabeth Lennox is releasing the fifth book in her Montana Men series on April 10th. The latest book is called "Dangerous Temptation," and picks up where the previous books left off.
She has written over 135 books, which sold over 1.7 million copies. Her free eBooks have been downloaded over 2.9 million times in just the four years they have been available.
Lennox's prolific body of work has earned her a loyal following of readers. One reader says, "Good read for sure. Sexy but with a lot of heart. Dramatically funny. Filled with angst and tingle worthy moments. This series is a great read."
Her latest work will continue the stories of the DeBron clan, chronicled in the Montana Men series. The family wrestles with inner turmoil that can only be soothed by their love affairs.
Lennox's work is notable for including appealing masculine characters and strong, independent heroines. She draws on her wide-reaching career and global travels to populate her novels with unforgettable characters in unique settings. Her books cover a range of settings from the love stories of a sheik's family to a series about boarding school scandals.
Her books can be purchased on Amazon and Google Play.
About Elizabeth Lennox:
A native of Washington, DC, Elizabeth Lennox lives just outside the District with her husband and two children. Though she has harbored a passion for writing her whole life, it only became her full time job in 2012. Before taking on writing, she worked in many industries, including government consulting and finance.