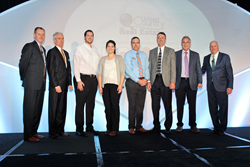 The (real estate) market is really good and people want what we have right now.
Kansas City, Mo. (PRWEB) March 24, 2017
United Country Real Estate recently announced recorded growth in 2016 for its top offices and in franchise sales. Its top 50 offices nationwide ended the year showing 25 percent growth over 2015.
Residential sales made up a large portion of recorded growth for many of the offices. As a whole, United Country saw growth in residential sales between 12-21 percent most of 2016. That's compared to single digit growth nationally. Owner/broker Tim Kruse from one of United Country's top offices, United Country Real Estate | Green Fields Real Estate, serving Northern and Central Coast of California, said he attributes their 35 percent growth in 2016 to a top performing team, steady land sales and individual agents continuing to develop their businesses.
"We had quite a bit of success in land sales in Northern California. While agricultural land values took a break from the feverish rise the last few years with the decline in nut prices, there were still some fairly priced properties that allowed buyers to get in and sellers to cash out some of their long term holdings. Residential sales were solid as well, as we are close enough to the Bay Area without the relatively higher price tags," said Kruse. "As our team continues to nurture their real estate relationships and utilize the United Country tools more fully, I expect us to grow at least 25 percent this year. Despite our recent success, I know that we still have work to do to strengthen our brand and differentiate our service and expertise in the marketplace. This is not something our team takes for granted."
United Country also added a 52 franchise offices in 2016. This is the most offices the company has welcomed since before the recession hit in the late 2000's. The first quarter for United Country is showing the possibility for even more growth in 2017. The sales team for United Country is hitting the ground running and is already more than half way to their yearly goal.
"Last year we had a fresh new team come in who are motivated and energized. They were able to give us the best franchise sales year we've had since 2008," said Richard Thompson, national vice president of sales for United Country. "We think this year is going to be an even better year than last year. The market is really good and people need what we have right now. We've already brought in some quality people to open new franchises and our team is continuing to get stronger."
For more information about United Country Real Estate, call 800-999-1020 or visit their website
at UnitedCountry.com.
About United Country Real Estate
United Country Real Estate – a division of the United Real Estate Group – is the leading, fully integrated network of conventional and auction real estate professionals. The company has been an innovator in lifestyle and country real estate marketing since 1925. United Country supports nearly 500 offices and 5,000 real estate professionals across four continents, with a unique, comprehensive marketing program. The exclusive program includes the highest ranked and largest portfolios of specialty property marketing websites, unequaled national print advertising, the largest internal real estate advertising agency, an extensive buyer database of more than 650,000 opt-in buyers and additional proprietary programs to advertise properties more broadly.