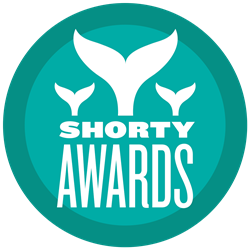 Adorama has a strong focus on providing its followers with new, fun and engaging ways to interact across its digital community.
New York City, NY (PRWEB) March 23, 2017
Adorama, one of the world's largest photography, video, audio, imaging and electronics retailers, is thrilled to announce its campaign, Adorama: Top Photographer with Nigel Barker, has been selected as a finalist in the Shorty Awards for "Best Influencer and Celebrity YouTube Campaign" and "Best in Retail and E-Commerce" categories.
Watch Top Photographer with Nigel Barker now.
Every year the Shorty Awards honor the best work across social media's vast and growing landscape. Now in its ninth year, the Shorty Awards continue to recognize the most innovative, creative, and culturally relevant brands, organizations, agencies and influencers across social media.
Adorama acknowledges the undeniable power of these platforms, including Facebook, Instagram, Pinterest, Twitter, Snapchat and YouTube as a way to express its brand values and communicate with its audience. Adorama has a strong focus on providing its followers with new, fun and engaging ways to interact across its digital community. With over a million followers, the Adorama global network continues to grow each day.
Adorama and Nigel Barker recognize the importance of connecting with fans in a number of unique and creative ways. "The demand for quality content across social media platforms is skyrocketing, and Adorama is developing all of its programs with this appetite in mind," states Lev Peker, Adorama's chief marketing officer. "Top Photographer with Nigel Barker is just one example of the many high-quality projects and programs we are offering across social media channels. Each is methodically planned with concrete takeaways that help creatives, whether they are starting out or well into their profession."
Finalists were selected by the Real Time Academy of Short Form Arts & Sciences, whose members include leaders across the advertising, media, entertainment and technology industries. The group includes CMO of GE, Linda Boff, Apple Co-founder Steve "Woz" Wozniak, CMO of Patrón Spirits International AG Lee Applbaum, Instagram Co-Founder Mike Krieger, author, activist and TV host, Janet Mock, and more. Nigel Barker comments on being named a finalist: "What an honor it is for me and the whole cast and crew who worked so hard together to make Top Photographer a success. An extra big thank you to all the fans of the show who supported us and voted for us – I'm smizing right now…!"
Winners and honorees will be announced leading up to and during the ceremony on Sunday, April 23rd in New York City.
ABOUT ADORAMA: More Than a Camera Store
Adorama is more than a camera store – it's one of the world's largest photography, video, audio and computer retailers. Serving customers for more than 40 years, Adorama has grown from its flagship NYC store to include the leading online destination for imaging and consumer electronics. Adorama's vast product offerings encompass home entertainment, mobile computing, and professional video and audio, while its services include an in-house photo lab, AdoramaPix; resources and gear for photographers, filmmakers, production studios, broadcasting and post houses, and recording artists through Adorama Pro; pro equipment rental at Adorama Rental Company; and the award-winning Adorama Learning Center, which offers creative education in online channels such as the popular Adorama TV.
Adorama is listed as one of the top five electronics retailers by Consumer Reports, "Best of the Web" by Forbes.com, Internet Retailers Top 100, and is the official Electronics Retailer of the NY Giants. Visit ADORAMA at http://www.adorama.com.
ABOUT THE SHORTY AWARDS
The Shorty Awards are produced by Sawhorse Media, a New York-based technology company co-founded by Greg Galant and Lee Semel. The Shorty Awards honor the best of social media by recognizing the influencers, brands and organizations on Facebook, Twitter, YouTube, Tumblr, Instagram, Snapchat, Vine and more. Past winners include Taylor Swift, Tyler Oakley, Casey Neistat, Hannibal Buress, Malala Yousafzai, Jenna Marbles, J.K. Rowling, PewDiePie, and DJ Khaled. The Shorty Awards were the first awards to honor social media, and by constantly evolving along with the medium it honors The Shortys remains the most prominent award show of its kind, engaging an online audience of millions and culminating in a blockbuster ceremony in New York City. Sawhorse Media also created and runs Muck Rack, a leading software platform that helps fortune 500 companies, brands, PR agencies and journalists build relationships, monitor news and measure the impact of media.
FOLLOW THE SHORTY AWARDS
@shortyawards
shortyawards.com
CONTACT FOR SHORTY AWARDS
Rob Schlissel
Marketing and Partnerships Director
rob(at)shortyawards(dot)com