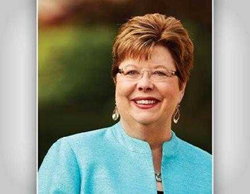 "Dr. Meehan is an experienced and talented leader with a true passion for Seton Hall and a shared commitment to our Catholic mission."
South Orange, NJ (PRWEB) March 23, 2017
The Board of Regents of Seton Hall University today voted unanimously to appoint Mary Meehan, Ph.D., a highly respected higher education and healthcare leader, as well as a former Seton Hall administrator and university alumna, as its interim president, effective April 11. Meehan's appointment allows Seton Hall President A. Gabriel Esteban to focus full time on the transition to his new position as president of DePaul University.
The Board also authorized the launch of a nationwide search for the next president of Seton Hall University. In a message to the Seton Hall community, Board of Regents Chairman Patrick M. Murray said, "we are excited to begin the process of identifying the next talented leader for this great institution."
Meehan has spent more than thirty years in key leadership positions at higher education and healthcare institutions, including more than a decade as the president of Alverno College, a leading Catholic women's college in Milwaukee, WI, ranked among the top regional universities in the Midwest in the "Most Innovative Schools" category by U.S. News & World Report. Meehan earned her B.A., M.A. and Ph.D. at Seton Hall, as well as a M.S. in Health Policy and Management from New York Medical College. She served as Vice President and Assistant to the President from 1996-2001 and Executive Vice President for Administration from 2001-2004. Prior to joining Seton Hall, she spent more than a decade as a healthcare executive with St. Mary's Hospital in Passaic, NJ, and St. Vincent's Medical Center in Harrison, NY. Nationally, she has served on the NCAA's Chancellors/Presidents Council, the Board of Directors of the National Association of Independent Colleges and Universities and the Board of Directors of the Association of Catholic Colleges and Universities, among other positions.
"Dr. Meehan is an experienced and talented leader with a true passion for Seton Hall and a shared commitment to our Catholic mission," added Chairman Murray.
"I am thrilled and energized to return to Seton Hall University at this exciting moment in its history," said Meehan. "The faculty, staff, students and alumni make this a special place, and I am confident that, working together, we will continue to advance this great University and its Catholic mission."
His Eminence Cardinal Joseph W. Tobin, the Archbishop of Newark, in his role as Chair of the Board of Trustees and President of the Board of Regents said, "I am delighted to welcome Dr. Meehan back to Seton Hall and thank her for agreeing to serve in this important role to help ensure a seamless transition to the next chapter of leadership for the University."
"Dr. Meehan is an excellent choice to lead Seton Hall forward," said President Esteban. "She is a strong and talented executive who knows this University well and is prepared to lead on day one. As I spend the next few months preparing for the next professional chapter of my life at DePaul, I wish Dr. Meehan all of the best."
ABOUT SETON HALL UNIVERSITY
One of the country's leading Catholic universities, Seton Hall University has been developing students in mind, heart and spirits since 1856. Home to nearly 10,000 undergraduate and graduate students and offering more than 90 rigorous academic programs, Seton Hal's academic excellence has been singled out for distinction by The Princeton Review, U.S. News & World Report and Bloomberg Business.
Seton Hall, which embraces students of all religions, prepares its graduates to be exemplary servant leaders and global citizens. In recent years, the University has achieved extraordinary success. Since 2009, the University has seen record-breaking undergraduate enrollment growth in addition to an impressive 95-point increase in the average SAT scores of incoming freshmen. In the past decade, Seton Hall students and alumni have been awarded nearly 20 Fulbright Scholarships as well as other prestigious academic honors including a Rhodes Scholar. In the past five years, the University has invested more than $134 million in new campus buildings and renovations. And in 2015, Seton Hall launched a new School of Medicine as well as a new College of Communication and the Arts.
A founding member of the new Big East Conference, the Seton Hall Pirates field 14 NCAA Division I varsity sports teams. The University's beautiful main campus is located in suburban South Orange, New Jersey, and is only 14 miles from New York City – offering its students a wealth of employment, internship, cultural and entertainment opportunities. The University's nationally recognized School of Law is prominently located in downtown Newark. For more information, visit http://www.shu.edu