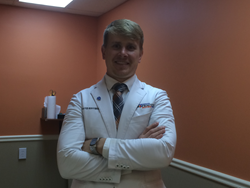 Back and neck pain don't wait, we don't think you should have to wait for an appointment either.
Carbondale, IL (PRWEB) March 28, 2017
David Binversie DC, DAAMLP of Carbondale Chiropractic Injury Clinic is pleased to announce some changes that he has made to his practice. Members of the community are now able to be seen at his office without an appointment. This new policy allows people that are in pain, and need to be seen, the ability to walk in and get the care they need.
Quote from Dr. Binversie:
Back and neck pain don't wait for a convenient time, and some people have to wait several days to weeks to see their doctor. We are always looking for ways to better serve our patients and the community, and with everyone's busy lifestyle, walk in appointments seem to be the next step in convenience for our patients.
Dr. Binversie's office is located in the Eastgate Shopping Center across the street from Walgreens on Wall St.
For more information visit http://www.carbondalechiropracticinjuryclinic.com or call 618-519-9334.