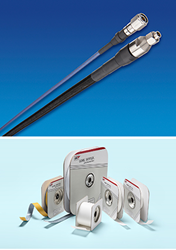 Pleinfeld, Germany (PRWEB) March 23, 2017
W. L. Gore & Associates, (Gore) will be exhibiting its high-performance aerospace products for civil aircraft applications at the 2017 - AIX (Aircraft Interiors Expo) in Hamburg, Germany on 4-6 April in Booth #2D60. Gore representatives will showcase a host of products that are scalable, easy to deploy and improve all aspects of performance. The Gore portfolio of fiber optics, USB and HDMI solutions meet the civil aerospace industry's ever-increasing desire for high speed data transfer.
GORE® Aerospace Fiber Optic Cables not only meet ARINC 802 IEEE Standards for performance and quality assurance, but also resist crushing, kinking and abrasion through a unique dual buffering system that makes initial routing easier. These cables also deliver reliable signal transmission over longer distances in wide temperature ranges.
GORE® Aerospace USB 3.1 Cables provide reliable high-speed data transmission up to 10 gigabits. They support power management from 9-32V systems and carry more data over distances greater than 5 meters to ensure faster IFE content uploads and downloads.
GORE® Aerospace HDMI 2.0 Cables provide excellent signal integrity with stable performance over longer distances, minimizing the need for additional signal amplification. These smaller, high-density cable bundles improve installation due to a tighter bend radius that makes them easier to route in confined spaces.
GORE® Microwave Sealed Airframe Assemblies are vapor-sealed to provide durable protection against the ingress of water vapor, jet fuel and other contaminants. Gore's assemblies maintain low insertion loss, return loss and phase performance for reliable electrical performance over the entire life cycle.
GORE® SKYFLEX Aerospace Materials exemplify the use of Gore innovation beyond cable solutions. Significantly easier to install than FIP seals, these lightweight, flexible tapes and gaskets eliminate cure time for sealing and protective materials, significantly reducing manufacturing cycles and direct maintenance time. Also, their unique construction enables them to maintain their protective performance over multiple open/close cycles, which translates to fewer replacements and re-work of seals and significant savings in personnel time during production and maintenance.
For more information about Gore products and solutions, visit Booth 2D60 at the AIX Expo or online at gore.com/electronics.
About W. L. Gore & Associates, Inc.
Gore is a technology-driven company focused on discovery and product innovation. Well known for waterproof, breathable GORE-TEX® fabric, the company's portfolio includes everything from high-performance fabrics and implantable medical devices to industrial manufacturing components and aerospace electronics. Founded in 1958 and headquartered in Newark, Delaware, Gore employs more than 10,000 associates with manufacturing facilities in the United States, Germany, the United Kingdom, Japan and China, and sales offices around the world. Gore is one of a select few companies to appear on all of the U.S. "100 Best Companies to Work For" lists since the rankings debuted in 1984. The company also appears regularly on similar lists around the world. Learn more at gore.com.