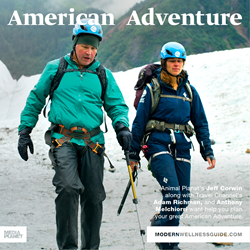 Today, current research suggests 56% of Americans haven't taken a vacation in the past year.
New York, NY (PRWEB) March 23, 2017
Today, current research suggests 56% of Americans haven't taken a vacation in the past year. With the highest stress levels ever recorded in this country and extremely busy schedules to commit to, it is harder than ever for Americans to set aside time to get outdoors. Just in time for spring and summer vacation planning this March, Mediaplanet's cross-platform edition of "American Adventure" will encourage readers to explore the great outdoors, with the convenience of being right in their backyard of the United States. It will show Americans how they can create their own American Adventure!
Wildlife biologist, nature conservationist and "Ocean Mysteries" star Jeff Corwin graces the cover of the print publication. Through an exclusive interview with Mediaplanet, he opens up about his passion for the American outdoors. "For people who love adventure, who love breathtaking landscape — who love incredible wildlife that lived practically unchanged for millennia — Alaska for me is that place," Corwin says. "The cherry on the top of the rich, delicious American sundae is Alaska." Corwin also shares some tips and tricks for having the best experience possible. "First, consider the destination. Wear appropriate footgear and dress for the elements. Will you be walking through rocky terrain and need ankle support, or will you be casually strolling through a grassy knoll?" Corwin explains. The number one message he hopes everyone, especially those gearing up to get outdoors, hears is: "Walk away with a remarkable memory of a lifetime," he says, "but leave that experience as pristine as when you found it so someone else can have that memory as well."
The print component of "American Adventure" is distributed within Thursday's edition of USA Today with a circulation of approximately 250,000 copies and an estimated readership of over 1 million. The digital component is distributed nationally through a vast social media strategy and across a network of top news sites and partner outlets. To explore the digital version of the campaign, click here.
This edition of "American Adventure" was made possible with the support of AAA, Travel Channel's "Man Finds Food" star Adam Richman, Travel Channel's "Hotel Impossible" host and creator Anthony Melchiorri, Leave No Trace, the Family Motor Coach Association, and more.
About Mediaplanet
Mediaplanet is the leading independent publisher of content marketing campaigns covering a variety of topics and industries such as Health, Education, Lifestyle, Business and Technology, and Corporate Social Responsibility. We turn consumer interest into action by providing readers with motivational editorial, pairing it with relevant advertisers and distributing it within top newspapers and online platforms around the world. Please visit http://www.mediaplanet.com for more on who we are and what we do.
Press Contact:
Caroline Trugman
Caroline.trugman(at)mediaplanet(dot)com
845.709.0275