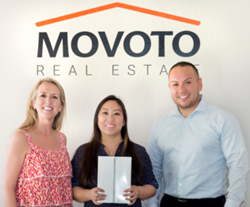 I'm so happy to win the iPad. I have 5 kids so I'm sure I'll have to fight over it.
Fresno, CA (PRWEB) March 27, 2017
Movoto Real Estate presented Hmong New Year celebration raffle winner Ka Moua with her new iPad on Tuesday, March 14th at their Fresno office. The raffle was held at Movoto Real Estate's booth at the Hmong New Year festival, which ran from December 26th to January 1st, 2017. Movoto Area Manager Julie Fulcher and agent Eddie Flores congratulated Ms. Moua.
"I'm so happy to win the iPad. I have 5 kids so I'm sure I'll have to fight over it," laughed Ms. Moua.
The Hmong New Year festival is one of the largest Hmong New Year celebrations in the U.S., and brought nearly 200,000 attendees. The festival celebrated all things Hmong, including cuisine, crafts, and cultural performances. Fresno has one of the largest Hmong communities in the state of California. Movoto Real Estate is honored to have been a part of such an important tradition that means so much to our community.
About Movoto
Movoto Real Estate was founded on a simple principle: Selling and buying real estate is too complicated. That's why Movoto has dedicated over a decade to simplifying it. From humble beginnings as a three-person startup in 2005, the company has grown to become the second largest online real estate company in the US.
With the backing of Recruit Holdings Co., Ltd., owner of the largest real estate portal in Japan, Movoto has developed a real estate network of over 3,500 agents across all 50 states. Movoto was selected four years in a row for Inc. Magazine's 500|5000 fastest growing private companies. Join the over 26,000 clients who have trusted Movoto agents with buying or selling their home and the over 50 million people who searched for homes on Movoto in 2015. Learn more at movoto.com.