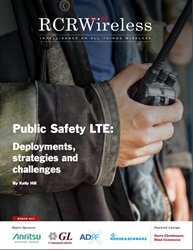 There has been a lot of excitement about the possibilities that mobile broadband will bring to first responders in terms of new capabilities and applications.
(PRWEB) March 27, 2017
RCR Wireless News spoke with experts across the public safety LTE ecosystem for their views on the future of the new public safety network being planned by the First Responder Network Authority.
The report, entitled "Public Safety LTE: Deployments, Strategies and Challenges", arrives just as a lawsuit has been resolved which was holding up the award of the $6.5 billion national contract. It is based on information from FirstNet as well as interviews with public safety communications experts from Wireless WayPoint, Sonim, Mutualink, early builder participant LA-RICS, ADRF, GL Communications, Black and Veatch, Cobham Wireless and more.
One of the crucial initial tasks for FirstNet and its private partner will be to present Radio Access Network plans for each of the 56 states and territories that will be covered by the network, at which point governors must decide whether to opt in or opt out of those plans. FirstNet was designed as a national effort with participation from all the states, and it remains to be seen what impacts that opt-out decisions will have on the national network and on the unique public-private partnership that FirstNet is establishing for this new, nationwide broadband network based on LTE capacity sharing in 700 MHz spectrum.
Download this report to learn:

The most recent developments in FirstNet's award process and the Rivada Mercury lawsuit
An overview of FirstNet's short- and long-term goals laid out in the RFP
Technical challenges for the deployment of a hardened, ultra-reliable network that meets the needs of public safety
Business challenges ahead for FirstNet and its commercial partner, particularly in the context of possible opt-out by states
The role of the recently opened FirstNet Lab for Innovation and Testing
Ongoing developments in private LTE for public safety, outside of FirstNet
Bonus: Supplier guide for public safety infrastructure and testing companies
Watch the complimentary editorial webinar featuring:

Kelly Hill, Editor, RCR Wireless News
Gerry Christensen, Founder and CEO, Wireless WayPoint
Chris Odenthal, Program Manager (for LA-RICS), Jacobs Engineering
Greg Najjar, Director, Business Development, ADRF
"FirstNet's network has been in the works for five years, and it is finally on the cusp of a contract award and deployment," said Kelly Hill, editor at RCR Wireless News. "Standing up a new, national LTE network is no small task, and there are many challenges ahead for FirstNet and its partner – particularly with Rivada Networks trying to establish itself as an alternative for states that may decide to opt out of the national build plans. But there has been a lot of excitement about the possibilities that mobile broadband will bring to first responders in terms of new capabilities and applications. Some of those have been explored in the FirstNet early builder projects, but I think we'll see wider support emerge once there is a widely deployed network for which people can develop devices and applications."
About RCR Wireless News
Since 1982, RCR Wireless News has been providing wireless and mobile industry news, insights, and analysis to industry and enterprise professionals, decision makers, policy makers, analysts and investors. Our mission is to connect, globally and locally, mobile technology professionals and companies online, in person, and now on video. Our dedication to editorial excellence coupled with one of the industry's most comprehensive industry databases and digital networks leads readers and advertisers to consistently choose RCR Wireless News over other industry publications. http://rcrwireless.com/