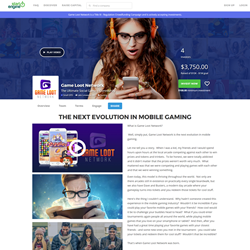 Kansas City, MO (PRWEB) March 24, 2017
Lance Baker, a Kansas City businessman and technology innovator, recently announced the launch of Game Loot Network, his latest project that connects mobile gamers around the world. Game Loot Network allows players to challenge their friends around the world, enter tournaments, win tickets and redeem them for cool prizes - all from their smartphone, tablet or other mobile device.
To Learn More About The Game Loot Network Offer, Visit : https://www.startengine.com/startup/gamelootnetwork
Game Loot Network's beta version was first launched in May 2015, and its official launch took place on June 1, 2016. It is the first platform to allow players to purchase, earn, and use a universal currency called Game Loot Tokens. Players can use their tokens to enter tournaments and win tickets, and as they win more tickets, they can redeem them for valuable real-world prizes.
Gamers can earn more tokens by referring their friends to the network. Game Loot Network also offers an optional affiliate program for those who wish to generate more income, and developers can also bring their games to the network through the industry leading Developer Program.
"Mobile gaming - even when you are playing by yourself - is fun and exciting and millions of people across the globe play every single day," stated a representative of the network.
"By coupling mobile gaming with the social gaming aspects of tournament play and the ability to turn your game play into valuable rewards, Game Loot Network is the very first mobile game network that has truly embraced and developed social gaming features and function as our primary user experience."
At this time, the Game Loot Network team has taken their project to StartEngine, where they are currently raising additional funds to take their community to the next level. Investors can learn more about the social gaming community and ask questions directly to the team before getting involved.
Individuals interested in learning more about Game Loot Network can visit the project's StartEngine.com page for additional information at https://www.startengine.com/startup/gamelootnetwork.
About Game Loot Network :
Game Loot Network is the next evolution in mobile gaming as it allows users to play games, have fun, compete against others, and win cool prizes all within one platform. The network has grown from just an idea to a thriving and vibrant community of mobile gamers and mobile game developers and is currently available in over 100 countries. For more information, please visit http://GameLootNetwork.com