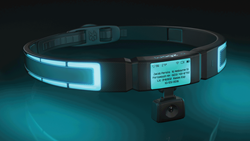 Not only did we conceive of a solution to make it easier to keep track of your dog, but we built in a number of other features that will truly improve the quality of life for dogs and their owners.
Orlando, Florida (PRWEB) March 27, 2017
Wagz, Inc. today announced that it is launching and taking orders for its connected dog collar at the Global Pet Expo in Orlando, Florida taking place March 21st to March 24th. After 2 years of product research and development, the Wagz team is pleased to bring its wearable device to the pet technology marketplace. The Global Pet Expo, the premier industry event, is presented by the American Pet Products Association (APPA) and Pet Industry Distributors Association (PIDA).
Wagz has built a team of leading veterinary experts and technologists to design and build a collar and connected mobile app to help give unparalleled visibility into the health and safety of dogs. Wagz has integrated the powerful features into one simple package for dogs and their owners, including:

GPS Tracking* to see real-time location and help find your dog if lost
Smart ID that displays dog's vital information always available on an easy-to-read screen
Geo Fencing allows owners to set dedicated areas for your dog to safely explore with shock-free deterrents (ultrasonic & vibration)
LED Lighting for safety and personalization that is automatically enabled by headlights and/or the mobile app
Health & Fitness to provide monitoring and insights of key activities and trends
Invisible Leash that allows owners to safely walk their dog without a leash
Barking Alerts via mobile notifications for unusual barking activity
Live HD Video Camera** gives owners real-time sights and sounds of your dog's adventures for fun and safety
*Requires a carrier subscription ($9.95/mo)
** HD Camera is sold separately
Terry Anderton, Founder and CEO of Wagz, shared his thoughts on the availability of the collar, "After several years of research and development, I am thrilled to see the Wagz collar become a reality. The idea for Wagz started when our family dog was lost and subsequently found through a stressful and lengthy process. Not only did we conceive of a solution to make it easier to keep track of your dog, but we built in a number of other features that will truly improve the quality of life for dogs and their owners." He added, "We couldn't have gotten to this point (getting the Wagz collar to market) without terrific collaboration between experts from the pet industry and the technology industry."
Some technical specifications of the The Wagz, Inc. Connected Collar:

Setup and control via mobile app (Apple iOS or Android)
Real-time GPS tracking is available with an additional data plan. The HD video camera is also available as a separate accessory.
Collar form factor – Molded from high impact plastic with integrated ballistic nylon strap and anodized pinch buckle and D Ring
Battery life ranges from 36-72 hours based on feature usage
Priced at $295 and $495 with the optional HD Camera accessory
Shipping/availability pre-order from GetWagz.com shipments begin June 2017
Collar Requirements:
Android (4.1 or above) or iPhone (iOS 8.0 or above) smart device.
GSM (2G) cellular network ($9/month or $75 annually)
Camera Requirements:
Secured WPA/WPA2 802.11a/b/g/n WiFi & Internet connection.
User will need security key/password when logging on to secured Wi-Fi.
Collar Tech Specs:
Dimensions: 6 1/4″ x 3 1/4″ x 1 1/2″
Bluetooth Low Energy 4.1
13.56MHz RFID (ISO14443A)
Camera Tech Specs:
Dimensions: 2 3/4″ x 2 ¼" x 1 ¼"
HD 720p@30fps video
115 degree wide angle view
Joshua Jasper, Vice President of Veterinary Business Development for Wagz, commented on the development of the Wagz Connected Collar. "As a veterinary business manager I am very optimistic about the potential of the Wagz collar. Owners and their dogs stand to benefit in a number of ways. Health monitoring will provide visibility into activity levels of dogs and can help give us a greater sense of their overall well being. As many owners need to leave their dogs alone for periods of time, the ability to check in with their pets and communicate with them can greatly improve a dog's happiness. All told, these insights put us on a path to better understanding of how to care for our dogs."
To help understand the power of the Wagz connected collar, we have created the following explainer video: https://youtu.be/lfA4lCTqx7Q.