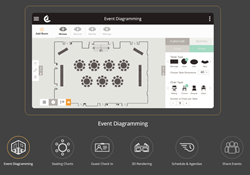 Los Angeles, California (PRWEB) March 24, 2017
Today EventForte announced an optional tool that will be made available to its DreamForte partners. The DreamForte Program provides fully subsidized event technology to event management departments and schools for academic use.
Since its launch in 2016, the DreamForte Program has been met with wide acclaim from hospitality and event management schools all around the world. The company has been working closely with partner universities over the past year, aligning cutting edge technology with curriculum needs and exploring new areas of collaboration and research.
The new tool will be made available to partner universities in phases, customized based on the needs of each partner to maximize learning outcomes. The highly anticipated tool is expected to assist lecturers in creating a more interactive learning environment, monitoring student progress and providing real time feedback on event management projects.
For more information about the DreamForte program, visit https://www.eventforte.com/dreamforteuniversity.html
ABOUT EVENTFORTE, INC.
EventForte, Inc. is a hospitality technology firm that provides an all-in-one event management cloud platform. EventForte simplifies the event management process by empowering event planners and venues with easy-to-use event planning tools that feature cutting edge technologies such as artificial intelligence, accurate 3D rendering, and virtual reality. To find out more, visit https://www.eventforte.com.