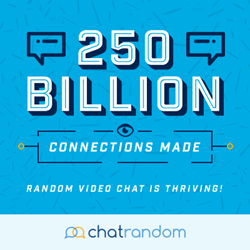 We are proud to host the most popular random cam chat site online and with some new features and improvements in the pipeline we are confident that these figures will continue to grow
Beverly Hills, CA (PRWEB) March 27, 2017
Video messaging and social networking chat site, Chatrandom, has recently surpassed 250 billion connections since its launch just over six years ago at the end of 2010. To put this into perspective, Chatrandom has created more connections than McDonald's has served hamburgers during the same period and averaged more connections per day than matches on Tinder. The free video chat service has between 25,000 and half a million people from over 250 countries online at any given time.
The dizzying number of connections on Chatrandom equates to an average of almost 115 million per day, or approximately 80,000 connections every second of every day that the random chat service has existed. According to an article in the Huffington Post, McDonald's claims to sell an average of 75 hamburgers every second of every day, less than 1,000 times the number of connections made on Chatrandom. The random chat site also trumps Tinder, which according to the latest statistics averages 26 million matches per day in comparison to an average of almost 115 million connections on Chatrandom per day. To date, Tinder has been responsible for over 10 billion matches, a fraction of the number of connections on Chatrandom.
"Reaching 250 billion connections is a significant milestone for Chatrandom", said Chatrandom CEO, Allen Fox, "We are proud to host the most popular random cam chat site online and with some new features and improvements in the pipeline we are confident that these figures will continue to grow."
In August of last year, Chatrandom became one of the first sites to offer a fully functional random cam chat platform via mobile devices and tablets, leading the way for other similar services. Since the launch of Chatrandom's mobile compatible chat platform, the site has experienced a tremendous surge in popularity, moving well inside the top 10,000 websites globally according to data from Alexa.com. The continued growth and addition of innovative features to the video chat service makes the next milestone of half a trillion connections achievable in the very near future.
About Chatrandom
Chatrandom is a 100% free chat site which randomly connects people from all over the world via webcam. Chatrandom offers users a range of options for talking including Random Chat, Girls Roulette, Gay Chat, Chat Rooms, and Cam X4 Chat. The site also provides unique features such as the ability to only connect with users from an individual country and lightning fast connections to quickly go from one random webcam to another.