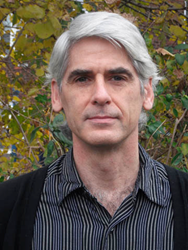 (PRWEB) March 26, 2017
News Release
For more information contact
Rob Haight, Instructor
Kalamazoo Valley Community College
rhaight(at)kvcc(dot)edu or 269.488.4452
Visiting Writers Series Presents Jim Daniels on March 29-30
The Visiting Writers series at Kalamazoo Valley Community College hosts author Jim Daniels on March 29 and 30 in the Student Commons Theater, Room 4240 at the Texas Township Campus. He will read from his work from 10 to 10:45 a.m. both days and his craft talks will run from 2:15 to 3 p.m.
Daniels has taught creative writing at Carnegie Mellon since 1981. Poetry, fiction, and screenwriting are his primary research and teaching interests. Recent books include Rowing Inland (2017), Birth Marks (2013), and Having a Little Talk with Capital P Poetry (2011), poetry; Eight Mile High (2014), and Trigger Man, short fiction 2011). He has written four produced screenplays, including, most recently, "The End of Blessings." Street, a book of his poems accompanying the photographs of Charlee Brodsky, won the Tillie Olsen Prize from the Working-Class Studies Association.
In addition, he has edited or co-edited four anthologies, including Letters to America: Contemporary American Poetry on Race, and American Poetry: The Next Generation. His poems have been featured on Garrison Keillor's "Writer's Almanac," in Billy Collins' Poetry 180 anthologies, and Ted Kooser's "American Life in Poetry" series.
Daniels received the Brittingham Prize for Poetry, two fellowships from the National Endowment for the Arts, and two from the Pennsylvania Council on the Arts. His poems have appeared in the Pushcart Prize and Best American Poetry anthologies.
At Carnegie Mellon, he received the Ryan Award for Excellence in Teaching, the Mark Gelfand Service Award for Educational Outreach, the Elliott Dunlap Smith Award for Teaching and Educational Service, and a Faculty Service Award from the Carnegie Mellon Alumni Association.
Kalamazoo Valley's "About Writing" series is organized by instructor Rob Haight and offers students the opportunity to talk with professional writers and listen to their work. For more information, call Rob Haight at 269.488.4452, email rhaight@kvcc.edu or go to https://www.kvcc.edu/campuslife/visitingwriters/.