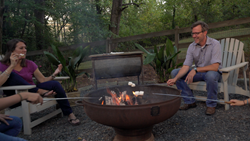 Beatrice, NE (PRWEB) April 11, 2017
It's tough to beat the appeal of a fire pit in a beautiful back yard. No matter the time of year, everyone loves the warmth and communal gathering space only a fire pit can provide.
According to landscape designer Doug Scott, of Redeem Your Ground in Atlanta, Georgia, there's a fire pit to suit homeowners on virtually any budget.
"From full installs designed to match a home's look and materials, to simpler stacked-stone or paver versions, there are a ton of options and budget ranges to choose from" he said.
A portable fire pit is a simple, cost-effective option that can help create a cozy gathering space. It can be utilized in a specially prepared place that reflects you and the vibe you want your fire pit to exude.
"It's all about beautifying and complementing the fire pit's surrounding area, and turning the heat up on your outdoor living space" Scott said.
The first step is to select a location for the fire pit. It's best if the location is at least 10-feet away from a home, fence or other man-made structure. Be sure to ensure there is plenty of room for seating, and for family and guests to move about freely.
Scott recommends a space that's about 15- to 18-feet in diameter, including five- to six-feet for the fire pit, and at least five- to six-feet around the perimeter for seating and ease of mobility.
Next, mark the space, which is easy to do by driving a stake at the center of the fire pit. Then, tie a string around the stake and stretch the string to the perimeter. Use the string to walk around the perimeter of the pit, marking it with landscape paint as you go.
Prepare the general area by raking away any debris and leveling the area as best you can. To keep the marked perimeter in place and for an added finished touch, you'll want to install ruble strips or other type of stone for a border. You can sink them in about an inch to better keep them in-place over time.
Once the area has been prepared, create the base or floor of the fire pit, where you'll place the fire pit, chair, table and other items.
Scott said while there are a wide variety of possible floor materials, from wood chips to cyprus mulch, he prefers more fire-resistant materials such as stone, brick, concrete, or mini slate chips.
To summarize, the main elements of the fire pit include: the pit itself; seating; a table/drink stands; and potted plants.
Now it's time to place the fire pit and get onto the fun part of the project, which is making it look and feel like a room inside the home. There are no rules when it comes to fire pit décor. You can either purchase new seating and accessories to achieve the desired look and feel, or repurpose existing items that have sentimental value.
Visit WeAreExmark.com/diy to see how Scott's fire pit project turned out, and view more 'Done in a Weekend' videos with project ideas to increase the appeal of your outdoor living space.
About Exmark
Exmark Manufacturing was incorporated in May 1982 as an independent manufacturer of professional turf care equipment. Today, it is the leading manufacturer of commercial mowers and equipment for the landscape professional. Exmark mowers are purchased 2-to-1 over the next best-selling brand by landscape maintenance professionals. In addition to designing, building and marketing quality turf care equipment, Exmark's goal is total customer satisfaction. All Exmark products are designed to help customers increase productivity while delivering unmatched quality. Products are sold to distributors and dealers who share the company's commitment to customer service and quality products. Learn more at Exmark.com.
Note to Editors: All media inquiries, image or interview requests should be directed to Matt Gersib at (402) 314-2150 or mattgersib(at)gmail.com. For other inquiries, please contact Exmark Mfg. Co., Inc., Industrial Park N.W., P.O. Box 808, Beatrice, NE 68310-0808; (402) 223-6300.