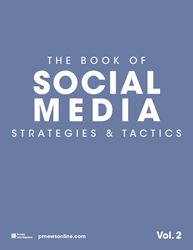 Washington, D.C. (PRWEB) March 27, 2017
In the recently released second volume of the Social Media Guidebook, PR News collaborated with contributors from The Coca-Cola Company, North American Aerospace Defense Command, Cisco and Weber Shandwick who provide guidelines for planning and executing social media campaigns, covering topics such as measuring success, Snapchat, live streaming and blogging. With articles like "How Social Analytics Improve the Value of PR (and How to Do It Cost-Efficiently)," readers will develop the social media skills needed to develop and measure platform-specific strategies that meet their business goals.
The Social Media Guidebook is available at http://www.prnewsonline.com/social-media-guidebook-vol2/
Social Media Guidebook chapters include:

Measuring and Communicating Social Media Success
Facebook
Snapchat
Twitter
Instagram
YouTube
Live Streaming
Blogging
Our contributing writers run the gamut of this industry sector. In the 50+ articles exploring social media in this book, the authors bring insights from their roles as agency advisors, corporate practitioners, academics and communications executives. The Social Media Guidebook is available at: http://www.prnewsonline.com/social-media-guidebook-vol2/
To view the full PR Press Store, which has books on crisis management, PR measurement, writing and more, visit http://www.prnewsonline.com/prpress. Contact Client Services at clientservices(at)accessintel.com with any questions.
About PR News:
The PR News Group at Access Intelligence, LLC is a go-to source that serves the communications and marketing community at corporations, agencies and nonprofits. The PR News group focuses on honing and growing PR practitioners' skills in social media, crisis management, digital PR, measurement, employee relations, media training, CSR and writing through its flagship newsletter, webinars, conferences, awards programs, workshops and guidebooks. With the launch of its weekly newsletter over 70 years ago, PR News has remained dedicated to supporting the growth of communicators all while keeping them abreast of the latest news affecting the industry. For more information, please visit http://www.prnewsonline.com.
###