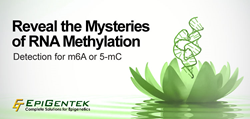 RNA methylation has received a new burst in interest as researchers rely on a series of pioneering EpiGentek kits to unravel its function.
Farmingdale, NY (PRWEB) March 27, 2017
EpiGentek, a Farmingdale, NY-based biotech firm specializing in epigenetic research products enables researchers to pursue the recent RNA methylation "gold rush" with their established portfolio of optimized assay kits that measure RNA methylation. In light of the newfound characteristics of N6-methyladenosine, or m6A, RNA methylation has received a new burst in interest as researchers rely on a series of pioneering EpiGentek kits to unravel its function.
This modification was discovered years ago, but was only recently found to be a dynamic mark in RNA with a corresponding eraser enzyme and potential regulatory roles. M6A is the most abundant messenger RNA (mRNA) modification, termed the "fifth RNA base", and is also present in transfer RNA (tRNA), ribosomal RNA (rRNA), small nuclear RNA (snRNA), and long non-coding RNA (lncRNA). Interestingly, it accounts for more than 80% of all RNA methylation.
N6-Methyladenosine has been shown to influence splicing, nuclear export, translation ability and stability, and RNA transcription. Measuring m6A is becoming increasingly important because the reversible chemical modification may serve as a novel epigenetic marker and improve our understanding of diseases.
EpiGentek debuted the very first commercially available kit for rapidly quantifying m6A RNA. Ideal for researchers aiming to quantify N6-methyladenosine, EpiGentek's EpiQuik m6A RNA Methylation Quantification Kit performs absorbance-based quantitation of m6A in an ELISA-like, high throughput format. It can be completed in only 3 hours and 45 minutes. With this kit, researchers are able to measure m6A in total RNA from any species, including mammals, plants, fungi, bacteria, and viruses in a variety of forms. The assay has a high sensitivity, with a detection limit as low as 10 pg of m6A.
M6A is detected using a specific capture N6-methyladenosine antibody and detection antibody, allowing the user to quantify an absolute amount of m6A as well as determine the relative m6A RNA methylation states of two different samples.
It is clear that m6A is an important epigenetic modification of interest to researchers, as well as 5-methylcytosine (5-mC) in RNA. Evidence suggests that RNA cytosine methylation affects the regulation of various biological processes such as RNA stability and mRNA translation.
To measure 5-mC in RNA, EpiGentek scientists designed a kit based on their popular MethylFlash™ quantification technology. The MethylFlash 5-mC RNA Methylation ELISA Easy Kit has no other comparable kits on the market, with proprietary technology and an ELISA-like format which allows the assay to have a large "signal window" with less variation between replicates. It can be completed in 2 hours and 40 minutes and researchers can use total RNA isolated from any species in a variety of forms including cultured cells, fresh and frozen tissues, plasma/serum samples and body fluid samples.
To complement a researcher's tools for RNA methylation studies, EpiGentek also offers an RNA bisulfite conversion kit to analyze 5-mC RNA methylation using RNA bisulfite sequencing and other downstream applications. A streamlined kit to perform RNA bisulfite conversion and 5-mC RNA Bisulfite-Seq NGS library preparation all-in-one is also available.
EpiGentek's extensive portfolio of RNA methylation assays recognizes the importance and newfound interest in this area in the field of epigenetics and supports the recent spotlight on m6A. A growing number of researchers continue to devote much of their effort to uncovering the mysteries of RNA methylation using EpiGentek's series of kits for measuring m6A and 5-mC in RNA.
For more information on the wide range of epigenetic tools available for RNA methylation research, readers can go to: https://www.epigentek.com/rna-methylation
Visit EpiGentek at the American Association for Cancer Research (AACR) meeting this year at Booth #3439.
About EpiGentek Group Inc.
EpiGentek is a New York-based biotechnology company that focuses on developing and providing innovative technologies, services, and products as a complete and systematic solution for epigenetic related research and drug discovery. Visit the informative website at http://www.epigentek.com