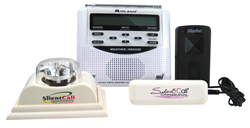 EDEN PRAIRIE, Minnesota (PRWEB) March 28, 2017
Harris Communications is bringing its latest assistive equipment for the Deaf to Minnesota Deaf Awareness Day, 9 a.m.-4 p.m. Saturday, April 15 at White Bear Lake High School South Campus in White Bear Lake, Minnesota.
Stop by the Harris Communications booth to try out the newest assistive technology available to make life easier, from doorbells for the Deaf, to cell phone signalers, to bed shaking and vibrating alarm clocks, to whole house signaling systems for the Deaf and hard of hearing that can alert you to nearly anything, including when the baby is crying, dinner's ready, someone is at the door, or you have an incoming phone call, a smoke/carbon monoxide alert or weather emergency.
Attendees can meet with knowledgeable ASL friendly staff from Harris Communications throughout the day. Product will be available for purchase.
Harris Communications provides more than 2,000 solutions for all levels of hearing loss. For more information visit http://www.harriscomm.com, or call 952-388-2152 (video phone) or 1-877-539-7445 (voice) to request a free catalog.
Minnesota Deaf Awareness Day is hosted by the Minnesota Association of Deaf Citizens. Admission and parking are free.
See this news release in American Sign Language (ASL) at https://youtu.be/RExIhQO8a9c.
About Harris Communications, Inc.
Based in Eden Prairie, Minnesota, Harris Communications, Inc. is a leading supplier of hearing loss solutions for people with all levels of hearing loss. Since its founding in 1982 by Dr. Robert Harris, himself a member of the Deaf community, Harris Communications has helped millions of deaf and hard of hearing customers enjoy their lives to the fullest by providing expert advice and a wide range of more than 2,000 assistive devices and educational resources. The company's product line includes alerting devices, phone and TV amplifiers, personal amplification systems, tinnitus maskers, books and media and much more. Harris Communications also supplies ADA compliance products and hearing protection equipment.