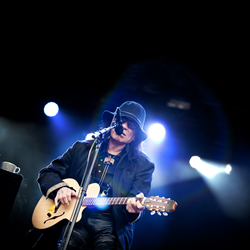 Fairfield, CT (PRWEB) March 24, 2017
Fairfield Theatre Company (FTC) is excited to announce that two concerts will be presented at The Klein Auditorium located in Bridgeport, Conn. It's been a year and a half since FTC hosted a concert at the proscenium theater, which has a capacity of 1,400. FTC has presented concerts including B.B. King, Buddy Guy, Alice Cooper, and more at the Bridgeport venue.
Southern-fried rockers Little Feat are coming back to The Klein Auditorium on May 25. As American as apple pie and rock 'n' roll itself, Feat's music transcends boundaries, a freewheeling fusion of California rock and Dixie-inflected funk-boogie. The band has influenced everyone from Phish (who played Waiting for Columbus in its entirety on Halloween 2010) to Van Halen (who recorded a version of "A Apolitical Blues" on OU812). Even Jimmy Page stated in a 1975 Rolling Stone interview with Cameron Crowe that Little Feat was his "favorite American group."
Fast-forward to Saturday, September 23 when the man, the myth, and the legend behind the Oscar-winning 2012 documentary Searching for Sugar Man makes his way to Connecticut. Simply known as Rodriguez, the laid-back and powerfully charismatic singer gained an impressive following in Australia and South Africa that lead to the documentary, Searching for Sugar Man, telling the story of his unexpected fame and rumored death.
Rodriguez's songs fit somewhere between blues, jazz, folk, and pop, and his newly-rediscovered, psychedelically-tinged songs still pack a potent punch. From the soulful "Sugar Man" to the lovely "I Think of You," his soft and soulful tones are reminiscent of Bob Dylan, Nick Drake, and Marvin Gaye, with an easy-breezy 1960s feel.
These are two rare and extraordinary shows to be presented in Bridgeport. Tickets, information, and samples of the music can be found at fairfieldtheatre.org
About Fairfield Theatre Company:
Fairfield Theatre Company is a highly-acclaimed non-profit performing arts organization located in the heart of downtown Fairfield. FTC presents over 300 concerts and events each year featuring outstanding national talent at FTC's StageOne and at The Warehouse. FTC's venues are widely recognized as being the best places to see live performances in the region. FTC's mission is to connect and enrich the community through the transforming power of the arts. For more information, go to fairfieldtheatre.org.