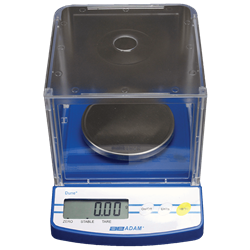 The Dune family of portable balances are ideal for basic education, industrial, veterinary, and food weighing applications, in the lab, classroom, office or field.
Milton Keynes, U.K. (PRWEB) March 27, 2017
Adam Equipment, a leading manufacturer of weighing equipment for professionals worldwide, has added three new models to its line of Dune portable precision balances available in the United Kingdom, Europe, and Australia.
The addition doubles the size of the Dune series, bringing a wider selection of capacities and readabilities to the line. New models include the DCT 601 and the DCT 2001, which offer readability of 0.1g and capacities of 600g and 2000g. The other new model, DCT 302, offers a capacity of 300g and readability of 0.01g, and is equipped with a 100mm round pan and draft shield
The Dune portable precision balance offers quick and easy weighing in a lightweight, streamlined design. With simple, three-button operation and sturdy ABS plastic construction, the Dune is a smart choice for labs, schools, kitchens, offices, or veterinary facilities.
Precision results are delivered rapidly on a large display, which features 15-mm-high digits. Automatic external calibration is performed through the keypad, which is sealed to protect against dirt and spills. Colour-coded keys facilitate quick recognition of the most frequently used buttons
Easily portable, the Dune is powered by AC adapter (included) or batteries (not included). Auto power-off conserves battery life and saves electricity, while the low-battery indicator alerts users when batteries need replacement. Overload protection helps prevent damage to internal components.
For more information on Dune portable precision balances, visit http://www.adamequipment.co.uk/dune-compact-balances.
About Adam Equipment
For more than 40 years, Adam Equipment has designed and manufactured precision balances and scales for professionals worldwide in the laboratory, medical, education, industrial, food, animal/veterinary and jewellery markets. Adam is committed to offering an extensive selection of weighing equipment with best-in-class value. Headquartered in the United Kingdom, the company has strategically established offices in the United States, South Africa, Australia, China and Germany to provide product support and speedy delivery to distributors. For more information about the company and its products, go to http://www.adamequipment.com.