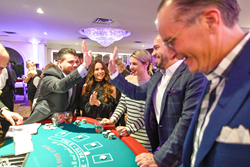 "This event is exciting for us, because it provides critical funding and helps spread the word about the incredible work being done at Eva's Village." Co-Chairs John Araneo & Matt Foley
Paterson, NJ (PRWEB) March 24, 2017
On March 10, close to 300 guests helped to raise more than $160,000, setting a new record for Eva's Village annual Casino Night fundraiser. Entertainment included blackjack, roulette, craps, and a Texas Hold 'Em tournament, as well as a silent auction, buffet and open bar at the Valley Regency in Clifton. Event Co-chairs Matt Foley and John Araneo explained, "This event is exciting for us, because it provides critical funding and helps spread the word about the incredible work being done at Eva's Village. Every dollar we raised at Casino Night will support the 20 integrated anti-poverty programs that help thousands of people turn their lives around, through food and shelter programs, medical treatment, addiction and recovery services, childcare, education and job training."
"Eva's Village is grateful to our sponsors and guests for coming together to support our mission and our programs," said Eva's Development Director, Heather Thompson. She was joined at the podium by a graduate of Eva's Village Recovery program who shared his journey from addiction to recovery with guests. Josh's addiction started with a medication prescribed to treat a medical condition. Within six months he lost his job and his apartment, and was living on the streets. After many years of coming to Eva's Community Kitchen for meals, he took the next step to seek help through Eva's programs and began to work on his recovery. Today he is enrolled in college, leads workshops at Eva's Recovery Community Center, and as a Recovery Coach, helps to connect people struggling to overcome addiction with recovery services. "Josh's story illustrates how events like Casino Night can truly make a difference. The funds we raised provide vital support to help people like Josh find the tools they need to build a new life," Ms. Thompson commented.
Casino Night sponsors included: Event Sponsor, Railroad Construction Company, Inc.; Private Game Room Sponsor, Inserra Supermarkets Inc.; High Roller Sponsor, County Concrete Corp.; Bank Sponsor, Linda and Remy deVarenne; and Giveaway Sponsor, Rapid Pump & Meter Corp. "Funds raised at our events provide more than a third of our private revenue annually. Many of our programs, including our Community Kitchen, the Childcare and Education program, and the free Medical and Dental Clinic, rely entirely on private donations and proceeds from events," Ms. Thompson explained.
More about Eva's Village
Founded by Msgr. Vincent E. Puma in 1982, Eva's Community Kitchen began by serving 30 meals a day to feed the hungry in Paterson. In response to the related issues of poverty, addiction, mental illness and homelessness in the community, additional programs and services grew out of the Community Kitchen to become Eva's Village, a non-profit, social service, anti-poverty organization that is one of the most comprehensive in New Jersey. For 35 years, Eva's Village has carried out its mission to feed the hungry, shelter the homeless, treat the addicted, and provide medical and dental care to the poor with respect for the human dignity of each individual. Today, Eva's Village helps thousands of individuals rebuild their lives each year through 20 integrated programs addressing needs in the community for Food & Housing, Medical & Recovery Services, and Education & Training.