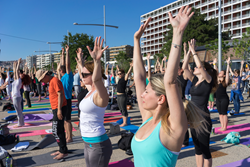 "We're delighted to be sponsoring this amazing, healing event. For Judith Hanson Lasater's workshop, we'll be providing yoga bolsters and blankets. And yes, participants can take them home afterward."
WASHINGTON D.C. (PRWEB) March 24, 2017
Yogaaccessories.com is proud to announce its sponsorship of "Yoga as Lifestyle Medicine," a weekend immersion in yoga therapy for difficult diagnoses and special conditions. Presented on Saturday, March 25th and Sunday, March 26th by Smithsonian Associates & Therapeutic Yoga of Greater Washington, this two day symposium of speeches, master classes and intensive trainings invites ALL persons seeking greater health and peace of mind as well as their healthcare providers and caretakers.
The event will be located at the Ripley Center of the Smithsonian Institution in Washington D.C. The weekend kicks off with a series of roundtable discussions and lectures from pioneers in the field of restorative yoga. Among these luminaries is Loren Fishman, MD, recognized worldwide for his work in yoga therapy for musculoskeletal and neurological back pain.
Sat Bir Khalsa, PhD is an Assistant Professor of Medicine at Brigham and Women's Hospital in Boston. Dr. Khalsa is a research scientist looking into the use of yoga for insomnia and anxiety disorders. He is chief editor for the Journal of Yoga Therapy and the medical textbook, the principles and practice of Yoga in Health care.
Judith Hanson Lasater is one of the founders of Yoga Journal magazine and a physical therapist with a PhD in East-West Psychology. Judith brings to the event her stellar reputation as an international teacher and author.
And the list goes on. Steffany Moonaz, JJ Gormley, Robin Carnes, Jnani Chapman, Jane Stelboum and more… among the most respected therapists and researchers in the field will be hosting master classes and intensives. From yoga as therapy for pain, sleep and arthritis, to restorative yoga that focuses on holistic preventive healthcare, the event has something to enlighten and/or heal just about anyone.
"We're delighted to be sponsoring this amazing, healing event," says Alex Wilson of yogaaccessories.com. "For Judith Hanson Lasater's workshop, we'll be providing yoga bolsters and blankets. And yes," Alex adds with a smile, "participants can take them home afterward."
For more information go to YogaAsLifestyleMedicine.com