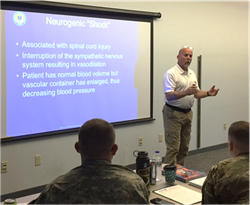 Vighter is proud to support the Minnesota Army National Guard through this PHTLS course.
WINONA, MN (PRWEB) March 24, 2017
Vighter established its NAEMT Authorized Training Center and gave back to the military at the same time by providing Prehospital Trauma Life Support (PHTLS) course scholarships to four medics assigned to the Minnesota Army National Guard. PHTLS is the world's premier prehospital trauma education developed in cooperation with the American College of Surgeons to promote critical thinking in addressing multi-system trauma and provide the latest evidence-based treatment practices.
Rex Wiegers, Vighter's Training Officer, served as the primary instructor for this inaugural course conducted 20 and 21 March 2017 in Winona, MN. As an authorized NAEMT training facility Vighter can now provide the following courses:

Advanced Medical Life Support (AMLS)
Emergency Pediatric Care (EPC)
EMS Safety
Geriatric Education for Emergency Medical Services (GEMS)
Law Enforcement and First Response Tactical Casualty Care (LEFR-TCC)
Prehospital Trauma Life Support (PHTLS)
Principles of Ethics and Personal Leadership (PEPL)
Tactical Combat Casualty Care (TCCC) for medical military personnel
Tactical Combat Casualty Care for All Combatants (TCCC-AC) for NON-medical military personnel
Tactical Emergency Casualty Care (TECC)
As a Service Disabled Veteran Owned Small Business (SDVOSB) with an executive team comprised of US Army veterans, the company has a strong connection to the military. Vighter's CEO, Dr. Jeffrey Lee commented, "The organization is proud to support the Minnesota Army National Guard and contribute to the readiness of these fine medics. Whether they are required to employ these lessons in their civilian jobs or while deployed overseas we are confident they are ready and able to manage trauma patients in a prehospital setting."
About PHTLS
The program is based on a prehospital trauma care philosophy, stressing the treatment of the multi-system trauma patient as a unique entity with specific needs. The course promotes critical thinking as the foundation for providing quality care.
About NAEMT
The mission of the National Association of Emergency Medical Technicians (NAEMT) education is to improve patient care through high quality, cost effective, evidence-based education that strengthens and enhances the knowledge and skills of EMS practitioners. With more than 32,000 members, NAEMT is the nation's only professional association representing all EMS practitioners, including paramedics, emergency medical technicians, first responders and other professionals working in prehospital emergency medicine. NAEMT members work in all sectors of EMS, including government service agencies, fire departments, hospital-based ambulance services, private companies, industrial and special operations settings, and in the military.
About Vighter Medical Group
Vighter provides Unconventional Medical Solutions around the world. Our laser focus on customer service and high standards for quality has earned Vighter an excellent reputation over the past decade. Whether clients require healthcare staffing services in the United States or special operations tactical support in austere environments abroad, Vighter is there to help.
Vighter is an ISO 9001:2008 registered Service Disabled Veteran-Owned Small Business (SDVOSB) firm verified by the Center for Veterans Enterprise. It received The Joint Commission certification in Health Care Staffing Services (HCSS) and is also accredited by the National Accreditation Alliance Medical Transport Applications (NAAMTA). In 2016 the company was listed at #310 on Inc. 5000's list of fastest growing private companies in 2016. The company is now a NAEMT Training Facility as well.