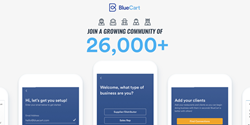 "We saw a 90% decrease in errors such as product codes, pricing, and order errors when we started using BlueCart. It has turned into a selling tool for us when prospecting new customers." -- Steve Gold, Director of Sales & Marketing, Master Purveyors, New
San Francisco, CA (PRWEB) March 29, 2017
BlueCart's digital vision for wholesale distributors and suppliers has flourished with a suite of products that help the everyday supplier grow their business on web and mobile. The award-winning CRM platform was not only designed to simplify the ordering process for the overloaded supplier, but also has created an environment where wholesalers can generate new business. Suppliers can manage their clients' purchasing patterns, track their portfolio of clients from BlueCart's Sales rep app, and grow their business directly on BlueCart.
Wholesale suppliers using BlueCart can invite their existing and new customers to view their products and place orders instantaneously. With the ability for customers to see an entire product list, suppliers on BlueCart have noticed an increase in the number of SKUs ordered, and ultimately, a 15% increase in weekly sales. Suppliers can edit, manage, and place orders on behalf of customers, taking ordering to a new standard of convenience and efficiency. Suppliers no longer have to waste time digging up past orders or product SKUs, and have experienced a 90% decrease in order errors relating to product codes and pricing. Instant notifications alert customers of order cut-off times. Sales reps and delivery drivers can be instantly notified when an order has been delivered or checked-in and can communicate with their clients via BlueCart's in app messaging. This functionality drives better communication and builds stronger relationships with customers.
"We saw a 90% decrease in errors such as product codes, pricing, and order errors when we started using BlueCart. It has turned into a selling tool for us when prospecting new customers."
-- Steve Gold, Director of Sales & Marketing, Master Purveyors, New York, NY
Now suppliers can manage their business on BlueCart mobile by inviting new buyers, editing and managing all orders, setting delivery dates, applying discounts, messaging customers, and switching between multiple locations in the app, all while getting real-time order notifications to keep all users in sync with back of house transactions.
In addition to these out-of-the-box features, BlueCart announces a fleet of new premium products, like Delivery Routes, Top Deals & Specials and Lead Gen, that are designed to increase customer retention and grow sales for wholesale suppliers. Top Deals allows suppliers to showcase specific products as weekly specials, resulting in higher sales and decreased warehouse inventory. Suppliers no longer have to set aside time to create and design sales campaigns because BlueCart provides this functionality with a few simple clicks. With this feature, suppliers can instantly notify all of their customers about their latest deals and specials without creating their own fliers, advertisements, and mailing material. With Lead Gen, your business and products become discoverable to all BlueCart restaurants (sans pricing) - allowing more buyers to enter your virtual storefront. Today, suppliers can tap into BlueCart's network of more than 26,000+ buyers to strengthen their relationships and drive sales.
"We experienced a 15% increase in line items ordered using BlueCart." -- Dennis Sellers, Vice President of Sales, ABCO Corporation, Alexandria, VA
BlueCart understands that simple ordering is efficient, but the near 3 year-old company refuses to halt there. One of the core principles of the app is it's inability to allow price comparisons between supplier competition. In that regard, BlueCart protects the trust and relationship between suppliers and their customers. The app has created an industry-wide network that allows restaurants to discover local suppliers in a seamless manner without the harmful "race to the bottom" environment created by competitors who offer price comparison.
"With the use of BlueCart, I have been able to sell more of our products and ultimately increase my revenue and make ordering a super simple task for my clients." -- Jose Vicente, Operator, This Chick Bakes, New York, NY
What's more, with integration partners like Fishbowl suppliers can now appreciate customized integrations suited to communicate with their existing accounting, and inventory management tools.
BlueCart's SaaS product launched in 2014 offering a mobile platform for the restaurant and hospitality sector for the purposes of modernizing and improving the wholesale ordering process between buyers and suppliers. BlueCart is Venture Capital funded and has offices in Washington DC, New York, and San Francisco with over 26,000+ businesses on its platform.
You can join BlueCart's 26,000+ restaurant community now by signing up for the Deluxe subscription package. For a full list of product updates suppliers can take advantage of, visit BlueCart.
BlueCart Inquiries:
791 Middlefield Road #201
Redwood City, CA 94063
Media Inquires to: elise(at)bluecart(dot)com