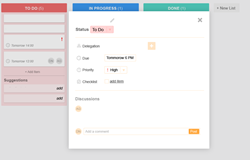 Los Angeles, California (PRWEB) March 24, 2017
Despite advances in technology, event management remains a largely manual process, where event planners are forced to work across a string of different apps and softwares to get things done. That is, until today. EventForte has announced today that the enterprise edition of the Event Management Cloud now offers custom integrations with other event management and productivity applications through a central integration hub.
Custom integrations allow event planners to hook together apps that they commonly use to the EventForte's event management platform. This allows event planners to automate much of the repetitive grunt work involved in the event management process.
EventForte is the first major hospitality technology firm to offer custom integrations for events. For example, a guest that is registered on an external Event Registration platform can be automatically added to the guest list and check in app. Currently the company has proprietary CRM integrations set up for existing enterprise customers, with more new integrations expected in the coming months.
To cater to larger teams, EventForte is setting up project management and team management tools that simplify the complex process of managing large events. Teams can now use their mobile devices to easily set up new tasks, delegate, and update their progress. These tools are initially only available to enterprise customers.
For more information, visit http://www.eventforte.com.
ABOUT EVENTFORTE, INC.
EventForte, Inc. is a hospitality technology firm that provides an all-in-one event management cloud platform. EventForte simplifies the event management process by empowering event planners and venues with easy-to-use event planning tools that feature cutting edge technologies such as artificial intelligence, accurate 3D rendering, and virtual reality. To find out more, visit https://www.eventforte.com.