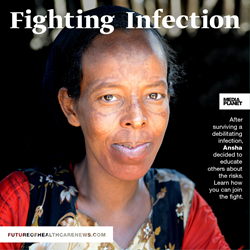 "Fighting Infection" will spark conversation on the current obstacles facing prevention and offer strategies for the health care community...
New York, NY (PRWEB) March 24, 2017
Mediaplanet today announces distribution of its latest cross-platform campaign: "Fighting Infection," which will spark a conversation on the current obstacles facing infection prevention and offer strategies for the health care community to help decrease the number of completely preventable deaths caused by these infections.
The print component of "Fighting Infection" is distributed within the Friday, March 24th regional circulation of the weekend edition of USA Today, with a circulation of approximately 250,000 copies and an estimated readership of 750,000 within the New York, DC/Baltimore, Minneapolis, Houston and San Francisco markets. The digital component is distributed nationally, through a vast social media strategy and across a network of top news sites and partner outlets. To explore the digital version of the campaign, click here.
Mediaplanet is enlisting Hardy Diagnostics, among others, to further educate on what the healthcare community needs to do in order to effectively prevent and diagnose infectious disease.
This awareness campaign was made possible with support from Hardy Diagnostics. Hardy Diagnostics has been manufacturing medical devices for microbiological procedures for over 36 years. Over 9,000 laboratories throughout the nation rely on Hardy Diagnostics for their supplies in order to culture and detect pathogens associated with the most common and deadly infectious diseases.
For more information about Hardy Diagnostics - http://hardydiagnostics.com/
About Hardy Diagnostics
Hardy Diagnostics manufactures culture media and rapid identification kits for microbiological testing in clinical research, food and pharmaceutical laboratories. Hardy Diagnostics manufactures over 3,500 different products and is licensed by the FDA as an in vitro Medical Device Manufacturer and ISO 13845 Certified.
About Mediaplanet 
Mediaplanet is the leading independent publisher of content marketing campaigns covering a variety of topics and industries such as Health, Education, Lifestyle, Business and Technology, and Corporate Social Responsibility. We turn consumer interest into action by providing readers with motivational editorial, pairing it with relevant advertisers and distributing it within top newspapers and online platforms around the world. Please visit http://www.mediaplanet.com for more on who we are and what we do.
Press Contact:
Jamie Bradley
Jamie.bradley(at)mediaplanet.com
646-922-1404