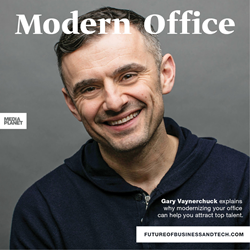 Mediaplanet announces new campaign aimed to share information on how businesses can improve their workspace...
New York, NY (PRWEB) March 24, 2017
Mediaplanet today announces distribution of its cross-platform edition of "Modern Office", aiming to share information on how businesses can improve their workspace from the standpoint of posture health, décor and work solutions available to businesses everywhere.
The print component of "Modern Office" is distributed within USA Today with a circulation of approximately 250,000 and an estimated readership of 750,000 in the markets of NY, San Francisco, Philadelphia and Nashville. The digital component is distributed nationally, through a vast social media strategy, and across a network of top news sites and partner outlets. To explore the digital version of the campaign, go to Mediaplanet's Future of Business and Tech website.
Serial entrepreneur, angel investor and business mogul Gary Vaynerchuk graces the cover of the print publication. Inside, Gary shares his perspective on how he believes businesses can cater to the needs of their employees, to the benefit of everyone. Additionally, Dr. Scott Bautch and Dr. Robert Hayden offer expertise on how bad posture affects the body and the ways business owners can implement best practices, ensuring the health and comfort of those they employ.
This campaign was made possible with the support of the American Chiropractic Association, SIOR Global Real Estate Association, Gary Vaynerchuk, WorldAtWork, The American Society of Interior Designers and more.
About Mediaplanet
Mediaplanet is the leading independent publisher of content-marketing campaigns covering a variety of topics and industries. We turn consumer interest into action by providing readers with motivational editorial, pairing it with relevant advertisers and distributing it within top newspapers and online platforms around the world.
Press Contact
Gunnar Rufo
646-755-7956
Gunnar.rufo(at)mediaplaenet(dot)com