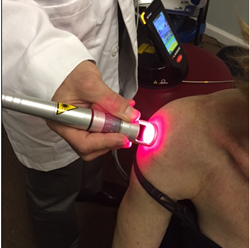 For too long, medicine has focused on symptom relief rather than true healing. K-Laser offers an alternative.
Huntington, NY (PRWEB) April 01, 2017
Dr. Deborah Genin DC, & Dr. Paul Beberman, DC of Balance Chiropractic & Wellness Center are pleased to announce the addition of Class IV Laser Therapy by K-Laser® to their practice. They are one of only a handful of practitioners integrating K-Laser® treatments into their clinic. This advanced technology offers instant relief of pain and shorter healing times.
K-Laser®, a state-of-the-art Class IV laser therapy which has been cleared by the FDA, penetrates deep into the tissue and initiates healing at the cellular level, even allowing some patients to return to their normal everyday activities with little to no pain. This High-Power Laser uses specific wavelengths of infrared light which targets damaged tissue to accelerate the healing process. The result is accelerated wound healing, enhanced cellular energy, reduced inflammation, restored range of motion and decreased pain, stiffness and spasm.
More than 1200 studies conducted over 40 years worldwide have shown the powerful therapeutic benefits of high power laser therapy. The K-Laser® stimulate all cell types, including soft tissue, ligaments, cartilage, and nerves. Patients who are suffering with acute and/or chronic conditions such as neck and back pain, headaches/migraines, TMJ disorders, sports injuries, musculoskeletal pain and joint pain now have an alternative to drugs and surgery. Contact Balance Chiropractic & Wellness Center today to see if K-Laser® therapy can give you your life back.
For more information, visit http://www.balancelongisland.com or call 631-470-9670
We are also very excited to announce a Laser Open House event on May 4th. Click on the link to register:
https://www.eventbrite.com/e/laser-therapy-open-house-tickets-33228172358