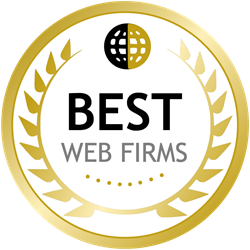 Roswell, GA (PRWEB) March 27, 2017
The Creative Momentum, a nationally-ranked full-service design agency based in Atlanta, has received its newest award, adding Top 10 Web Design Companies from BestWebFirms.
BestWebFirms evaluates design agencies based on a number of important criteria, including Sales Team Responsiveness, Support Team Responsiveness, Attention to Detail, Client List Quality, Pricing and Services, Design Quality, Code Quality and Originality.
Michael White, President of The Creative Momentum says, "We are thrilled to have met the goals for this award. We strive for excellence in our industry and love helping clients achieve excellence in their industries as well. The Creative Momentum is grateful to BestWebFirms for reviewing our design agency and ranking it among the top 10."
The Creative Momentum has been recognized and won dozens of awards in the last 3 years. For more information on The Creative Momentum, visit thecreativemomentum.com or call 678-648-1445.
About The Creative Momentum
The Creative Momentum is an Atlanta-based, full-service creative and digital marketing agency, specializing in custom web design and development for businesses. The Creative Momentum provides custom Web/Interactive, Inbound Marketing, SEO, Custom Graphic/Logo Design, Branding, Advertising, Media, Mobile Design and Strategic Planning to clients in high-tech B2B, B2C, consulting, security and non-profit industries. Learn more at thecreativemomentum.com or call 678-648-1445.