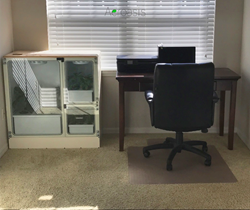 Oasis Mini is the highest yielding three chamber Smart Garden of its size and is the ultimate food gardening solution for any home or local restaurant.
(PRWEB) March 27, 2017
Aeroasis, the company behind Oasis Mini, has been developing their technology for the last two years and has arrived at a product solution that looks great in any home or public space. Oasis Mini is incredibly easy to use and requires almost no maintenance or gardening experience.
The idea for Oasis Mini began as a project by a young, innovative college student named Thomas Wollenberger as a way to grow his own food. He quickly saw the potential for his project to evolve into a product solution with universal applications. His simple yet effective DIY systems went through years of testing, and he eventually arrived at the final design that has become Oasis Mini.
Oasis Mini provides a wide array of benefits to the user in four major categories:
Environmental

Saves up to 90% of the water used in any traditional outdoor garden
Uses very little energy to keep plants happy and thriving
Eliminates the need for harmful pesticides that can pollute rivers and soil
Financial

Less money spent overall keeping plants alive and pest-free
Save money on weekly grocery bills while eating better than ever
Grow specialty crops that would normally be incredibly expensive during certain times of the year or in certain regions that import most of their food
Mental

Living in close proximity to a vibrant garden is proven to boost mood and focus
Be a part of a growth process that rewards the user with the freshest food possible, making them feel truly good about what they eat and connected to the plants they grow
Absence of pesticides can reduce the mental impact of trace chemicals traditionally found in food grown outdoors
Physical

Boost nutritional well-being
Make a new diet that much easier to start with hyper-local access to fresh smoothie ingredients and salads weekly
See the difference a home grown salad or two a week can make in one's energy levels during workouts or physical activities
On top of all the benefits, Oasis Mini is packed with a ton of useful features, including:

A 3 chamber design which reduces waste and increases efficiency through faster growth cycles, more harvests per year, and much more flexibility in plant growth options
An easy setup process requiring minimal maintenance only twice a month
An on-board touchscreen operating system for easy access to controls and growth data over time
Full climate control & automation
Remote text alert function keeping the user updated on plant progress
Full pH regulation & automation
Switchable Smart Glass that allows the user to turn the three glass chamber doors from clear to opaque
With such a user-friendly approach, Aeroasis is entering an increasingly relevant market space: According to a National Gardening Association report from 2014, "...more young people, particularly millennials (ages 18-34), are the fastest growing population segment of food gardeners. In 2008 there were 8 million millennial food gardeners. That figure rose to 13 million in 2013, an increase of 63%. Millennials also nearly doubled their spending on food gardening, from $632 million in 2008 to $1.2 billion in 2013." With this much traction, Aeroasis is poised to be a relevant contributor to a rapidly expanding market.
Aeroasis is currently crowdfunding Oasis Mini on Kickstarter and will be doing so for the next month. They hope to use the traction they receive from their campaign to release Oasis Mini for sale early next year, and to quickly release the second product in their line of consumer Smart Gardens only a few months later. This technology is vital to the well-being of future generations and will forever change and improve the way we source our food.
Aeroasis seeks to use their platform not only to sell future-focused food production systems, but also to design and develop educational & philanthropic initiatives with corporate and nonprofit partners to achieve their goal of food sustainability around the world. They have positioned themselves purposefully in an emerging market which will only continue to grow for years to come. Aeroasis intends to be a key player in the sustainable technology industry, and to release products congruent with their vision for a more self-sufficient future.
To support Aeroasis and their vision, anyone can donate to their cause on Kickstarter and follow them on their various social media platforms. Aeroasis will continue to develop products that enable anyone to live more sustainably, while also reducing the impact humans have on the planet.
Link to Kickstarter: https://www.kickstarter.com/projects/aeroasis/oasis-mini-hydroponic-smart-garden