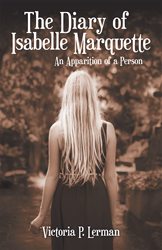 NEW YORK (PRWEB) March 27, 2017
After a series of losses due to the Great Recession, a woman must start over while also coming to terms with her troubling past in Victoria P. Lerman's debut novel "The Diary of Isabelle Marquette – An Apparition of a Person."
Isabelle Marquette is a woman of mystery. After she loses a large percentage of her investments and her husband, she must create a new life to support herself and her two children. Her journey leads her from New York to Las Vegas, where Isabelle becomes immersed in a chaotic world that leaves her struggling to keep her sanity.
"I write to challenge the mind and to make people think," said Lerman. "If someone who read my work can somehow connect, I know that I have made a difference."
As Isabelle reflects on her life through a series of diary entries, the reader is introduced to a world of white collar crimes such as trust fund fraud, embezzlement, arson, and other crimes committed against people.
In this compelling novel, a woman who loses almost everything during a financial crisis must learn to rely on perseverance, her inner-strength, and courage as she puts up a relentless fight to survive in a dangerous world.
"The Diary of Isabelle Marquette – An Apparition of a Person"
By Victoria P. Lerman
ISBN: 978-1-48083-969-4 (hardcover); 978-1-48083-968-7 (softcover);
978-1-48083-967-0 (eBook)
Available on Amazon, Barnes & Noble, and Archway
About the author
Victoria P. Lerman is a freelance writer and has two previously published children's picture books. She is a SAG-AFTRA actor. Lerman has also had the opportunity to write/produce music. She has appeared or been involved behind the scenes in several film and television productions. Lerman is currently based in New York City with her family. To learn more about the author, please visit http://www.victoriapastorlerman.com.
###
Review Copies & Interview Requests:
LAVIDGE – Phoenix
Bryan Beach
480-998-2600 x 510
bbeach(at)lavidge(dot)com
General Inquiries:
LAVIDGE – Phoenix
Amanda Eisen
480-998-2600 x 540
aeisen(at)lavidge(dot)com