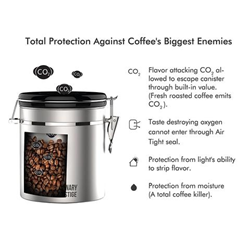 Coffee connoisseurs will immediately notice the difference.
New York, NY (PRWEB) March 29, 2017
Culinary Prestige, a California-based family-run company, has recently expanded its coveted coffee collection by introducing a brand new coffee canister to the mix. The company's newest launch is now available through the Amazon.com marketplace.
Noah Williams, co-founder of Culinary Prestige says, "Not many people actually experience the true flavor of their coffee. Coffee really tastes its best when it's freshly ground or roasted, and our coffee canister is highly effective at keeping ground or whole beans at their freshest for a long period of time."
The product is constructed of stainless steel body, a high-quality plastic lid and non-toxic silicone rings that form the air-tight seal. This results in a stylish unit that will preserve your coffee from light, oxygen, carbon dioxide and moisture. It boasts a powerful air-tight seal that helps prevent exposure of the coffee beans to the outside environment.
"Coffee connoisseurs will notice immediately the extra freshness of their coffee's aroma and flavor once they begin using this new coffee canister. If you're paying for quality coffee beans, it really just makes sense to invest in a quality storage solution. You'll really notice the difference."
This new coffee canister from Culinary Prestige can accommodate up to 16 ounces of whole beans or 14 ounces of ground coffee at one time. It also features a handy calendar on the lid to help users track the freshness of their beans.
This review from a recent Amazon customer reflects much of the recent feedback - "Coffee is a big part of my life. Seriously! It is the one thing in life I could never give up. I was a Barista for a couple of years, and since leaving the job, it has been my mission to perfect' my coffee at home. I just bought a high-end coffee maker. I have the Culinary Prestige French Press and grinder. I have a great frother. We found the coffee we like most, and this coffee canister is completing the collection. I love its uniqueness! I have a coffee canister that I've owned about 4 years, and I am so happy to replace it with the Culinary Prestige coffee canister. I love her design. She fits perfectly on my counter tops and my coffee is super fresh. I love the dial on top of the canister that you can set, and it is air tight. They also email you very detailed instructions on the product, and how to properly use it. I'm so happy I got this, it is amazing how much of a difference it made in the taste of my coffee. I am so close to that perfect at home cup!"
Coffee lovers are encouraged to Like Culinary Prestige on Facebook to join a growing community of coffee enthusiasts that receive daily coffee tips, tricks, news and more.
Shoppers looking for Culinary Prestige's new Coffee Canister can purchase it through Amazon. To celebrate the launch of Culinary Prestige new releases, customers will receive a full 33% off by using coupon code "CNSTR033" when they purchase from amazon.com which is backed by Culinary Prestige's 100% satisfaction guarantee. This promotional coupon is valid from March 29-April 5, 2017.