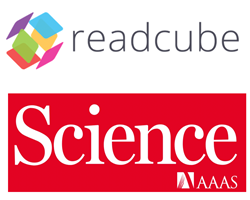 By coupling their prestigious Science collection with our innovative reading platform - together we will continue to support of the growing global community of students and researchers
Cambridge, MA (PRWEB) March 28, 2017
Today, technology company ReadCube announced its partnership with the American Association for the Advancement of Science (AAAS), the world's largest general scientific society and publisher of the journal, Science. Through this partnership, ReadCube will enhance its high-impact scholarly collection across its cross-platform reference management system.
All six Science-branded titles have been deep-indexed via ReadCube Discover program and are easily discoverable across ReadCube's web, desktop, and mobile reading portals, search engines, related article and recommendation feeds.
"Accessibility to scholarly information is paramount to the advancement of research and a core part of our mission. Our collaboration with ReadCube helps us expose our collection to more readers, ensuring they remain up-to-date in their fields," says Bill Moran, Science Publisher.
In addition to enhanced discoverability, Science articles viewed within ReadCube's apps are brought to life through its unique interactive article reading format. Enhancements include:

Annotation tools
Hyperlinked in-line citations
Instant access to supplemental materials
Clickable author names
Related articles
High-resolution figure browser, and
Article metrics / Altmetrics
"We are thrilled to be working with such an esteemed partner as AAAS," says Robert McGrath, CEO, and co-founder of ReadCube. "By coupling their prestigious Science collection with our innovative reading platform - together we will continue to support of the growing global community of students and researchers."
About AAAS
The American Association for the Advancement of Science (AAAS) is the world's largest general scientific society and publisher of the journal Science (http://www.sciencemag.org) as well as Science Translational Medicine, Science Signaling, a digital, open-access journal, Science Advances, Science Immunology, and Science Robotics. AAAS was founded in 1848 and includes nearly 250 affiliated societies and academies of science, serving 10 million individuals. Science has the largest paid circulation of any peer-reviewed general science journal in the world. The non-profit AAAS (http://www.aaas.org) is open to all and fulfills its mission to "advance science and serve society" through initiatives in science policy, international programs, science education, public engagement, and more. For the latest research news, log onto EurekAlert! (http://www.eurekalert.org), the premier science-news Web site, a service of AAAS. See http://www.aaas.org.
About ReadCube
ReadCube develops software to make the world of research more accessible and connected - serving researchers, publishers, academic and commercial organizations. ReadCube's web, desktop, and mobile reference management apps, including ReadCube and Papers brands, dramatically improve the way researchers find, organize, read, share, and cite research literature. ReadCube's publisher solutions, adopted by over 80 partners to date, include indexing via Readcube Discover, enhanced PDF viewing and sharing via ReadCube Connect, and article-level ecommerce via ReadCube Checkout.
Harvard researchers Robert McGrath and Siniša Hrvatin founded ReadCube in 2007, which now has offices in Cambridge, MA and Zagreb, Croatia, and is supported by Digital Science, a technology division operated by global media company, the Holtzbrinck Publishing Group. To find out more about ReadCube, visit http://www.readcube.com.