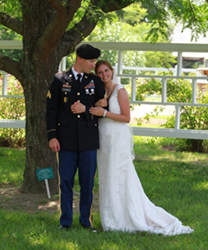 Cincinnati, Ohio (PRWEB) March 28, 2017
Growella (http://growella.com), a financial education website for the current generation, announces Bailey Cummins as its latest Growella Games winner.
Bailey is a 24-year-old resident of Fort Knox, Tennessee. She works as an office assistant at a department store and is the proprietor of BecomingBailey.com, a blog about life in a military family. Her husband is a member of the U.S. Army.
Bailey won $600 for successfully completing her Growella Games challenge. Her challenge was to save $600 into her household emergency fund over a period of eight weeks.
"I wanted to play Growella Games because I have been struggling to save money in my emergency fund," she said. "I do best when I'm externally motivated, and Growella's offer to match my $600 savings was a huge motivator!"
Throughout her 8 weeks playing the game, Bailey logged her progress using video updates posted to the Growella website. She said that the game was a challenge for her, and that she learned a lot about how she spends and uses her cash.
Growella Founder Dan Green is excited for Bailey and her husband.
"It's excellent to see the Cummins household win their round of Growella Games. It's our pleasure to match their savings with a $600 cash prize."
Cummins says the money is coming at a terrific time. "My husband and I just found out we'll be moving this summer, thanks to the military! We hadn't saved any money in advance because we weren't expecting to move for another year. We feel more secure knowing we have a good chunk of money saved now, in case of any emergencies along the way."
Follow Bailey Cummins' complete story at Growella Games.
About Growella Games
Growella Games is a money challenge game hosted by Growella. Game players are given money-related challenges and have 8 weeks to reach their goal. Challenges are based on the current needs of the player.
Money challenges for Growella Games players include paying down student loan debt, saving money into an emergency fund, reducing credit card debt on high interest rate cards, saving money for a downpayment on a home, and taking payroll deductions for 401(k) contributions.
When players reach their goal, Growella pays a cash prize, matching dollar-for-dollar what the player has saved, retired, or invested.
Growella Games is open to the public. Anyone can register for Growella Games at https://growella.com/games/.
About Growella
Growella is a financial education website for Millennials and members of the current generation. Using articles, video, and interactive storytelling to share ideas, Growella helps its audience do more with their lives and get more from their money. Growella is headquartered in Cincinnati, Ohio and is a member of #StartupCincy.