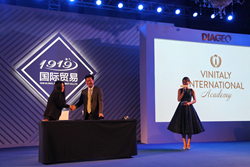 "Chengdu is the only wine fair where I meet people from the entire country. That is the proof that it is the true Mecca of trade business for wine professionals" states Stevie Kim.
(PRWEB) March 27, 2017
From the 19th to the 22nd of March 2017, Vinitaly International held "Vinitaly Chengdu 2017" for the fourth consecutive year, and for the second time at the Shangri-La Hotel, on the occasion of the International Wine and Spirits Show, the off-site showcase of "China Food and Drinks Fair for Wine and Spirits" and one of the most important B2B events in the Chinese wine sector. "Vinitaly Chengdu 2017" also marked the grand partnership between Vinitaly International and 1919, China's leading liquor supplier to foster new opportunities for Italian wine in China.
Offering four consecutive days of traditional B2B Walk Around Tasting, Masterclasses and the Vinitaly International Academy Executive Wine Seminars, "Vinitaly Chengdu" welcomed over 30,000 participants at the Shangri-La Hotel. With 44 exhibitors, and more than 400 labels at the showcase, the positive responses of the participants confirm the growing importance of the event in the Chinese market.
"I was struck by the great attendance of the buyers throughout the four days," says Alessandro Mugnano, head of the import company Interprocom based in Shenzhen. "This is the fourth year that my company participated in the Chengdu fair, but it is the first year in which we had an immediate and highly positive feedback. This feedback shows, at last, an increasing trend towards premium wines, which distances itself from the usual entry-level wines. Italian wines are a small but continuously growing phenomenon in this immense and complex market: by strengthening teamwork and increasing promotional activities, this growth can become exponential."
The positive reaction was also shared amongst the exhibitors that travelled from Italy. Annalisa De Dominicis, Export Manager for Velenosi happily explained, "most of the visitors were distributors coming from all over the Chinese provinces, some small importers and wine lovers. The level of interest in Italian wine is growing and captures, in particular, people who are already working in the wine sector but who haven't previously worked with Italian wine specifically."
Apart from the various B2B meetings, the ONAV China Master Classes and Vinitaly International Academy Executive Wine Seminars were highlights that stood out. The courses were completely sold out, showing the strong interest to further engage the world of Italian Wine. Marco Pizzoli, General Manager of Gruppo Italiano Vini in China states, "We have registered and increased both the numbers but especially the quality of visitors this year. The educational activity with thematic wine tastings has proved to be very useful, and we must continue to strengthen it, as our future relies on good education".
Stevie Kim, Managing Director of Vinitaly International comments "I am very satisfied with our Italian representation at Vinitaly Chengdu this year. After struggling and fine-tuning for four years, I think we have finally come to a good balance of solid representation of Italian wine both directly from Italy and as well as wine importers specialised in Italian wines". Furthermore, "There are so many fairs in China, mostly clustered around Beijing, Shanghai and Guangzhou area. But if you look at them, as I go to most of then on a regular basis, I oftentimes meet the same 500 faces from the surrounding area. Chengdu is the only wine fair where I meet people from the entire country. That is the proof that it is the true Mecca of trade business for wine professionals" continues Stevie Kim.
Vinitaly Chengdu 2017 also marked the new partnership between Vinitaly International and 1919, the giant of O2O liquor distributor in China. At the core of it, are also over 100 distributors orbiting around 1919.
On the agreement, Andrew Tan, the General Manager of 1919's purchasing subsidiary "Shanghai 1919 Global procurement CO., LTD", comments: "We chose Vinitaly International as our partner as they are the leaders of Italian wine in China. I can tell Vinitaly is always looking for innovative and useful tools to foster B2B connections. They were the first to set up the Italian wine pavilion during the 'International Wine and Spirits Show' in Chengdu. This partnership with 1919 celebrates Vinitaly's long-lasting commitment to Chengdu and we are looking forward to what future collaborations will bring."
The 1919 O2O platform numbers over 1,000 stores in 500 cities in China, being present in every Chinese province.1919 is the largest O2O open platform for wine and spirits and the third biggest liquor open platform next to Tmall and JD, attracting more than 1500 well-known brands (e.g Maotai, Wuliangye, Luzhou Laojiao and Penfolds) to join. In November 2015, 1919 announced its strategic merger with GJW.com.
To celebrate this new partnership, a luxurious Gala Dinner was held on the evening of March 20th at Intercontinental Hotel in Chengdu. The guests of honor; Italian wine producers and Chinese importers gathered together for specialty Chinese food.
Stevie Kim states, "It is not by chance that 1919 originated from Chengdu, because of its long history linked to Baijiu production and the China Food and Drinks Fair for Wine and Spirits that marked its 96th edition this year. Nowadays, everyone is talking about the market place but 1919 are the true pioneers of offline to online. I visited their flagship store in Chengdu, and it is absolutely amazing. To think that they already have more than 1000 shops in 500 cities, it is mind-blogging. We really hope that wed can do something substantial in terms of Italian wine education with there support".
About:
Veronafiere is the leading organizer of trade shows in Italy including Vinitaly (http://www.vinitaly.com), the largest wine and spirits fair in the world. During its 50th edition Vinitaly counted more than 4,100 exhibitors on a 100,000+ square meter area and 130,000 visitors from 140 different countries. The next edition of the fair will take place on 9 - 12 April 2017. The premier event to Vinitaly, OperaWine (http://www.operawine.it) "Finest Italian Wines: 100 Great Producers," will unite international wine professionals on April 8th in the heart of Verona, offering them the unique opportunity to discover and taste the wines of the 100 Best Italian Producers, as selected by Wine Spectator. Since 1998 Vinitaly International travels to several countries such as Russia, China, USA and Hong Kong thanks to its strategic arm abroad, Vinitaly International. In February 2014 Vinitaly International launched an educational project, the Vinitaly International Academy (VIA) with the aim of divulging and broadcasting the excellence and diversity of Italian wine around the globe. VIA this year launched the second edition of its Certification Course and today counts 55 Italian Wine Ambassadors and 6 Italian Wine Experts.