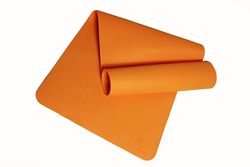 Yoga is almost like music in a way; there is no end to it.
Tampa, Fl (PRWEB) March 29, 2017
This yoga mat has been flying off of the shelves. But now it is back in stock and available in all ten colors.
Yoga fans from all over have been snatching up Clever Yoga's most popular and affordable yoga mat, The BetterGrip. It has been difficult to keep the mat in stock because of its immense popularity.
In response to customer demand, Clever Yoga has been working diligently on a new strategy to ensure the BetterGrip yoga mat remains in stock and ready for purchase. After quickly selling out, the mat had been out of stock for a couple of weeks. But now the yoga mat is back and ready to help yogis enjoy all of the benefits yoga has to offer.
The BetterGrip Yoga Mat is new and improved. The padding has been increased to better protect knees and elbows during various yoga poses. No more doubling up the mat required. The 6mm thickness provides exceptional resilience and give. Even with the upgraded thickness, the mat only weighs 2 pounds which makes it great to take on the go.
Clever Yoga's most popular mat is easy on the wallet, but it is tough on sweat. The non-slip surface provides optimum grip to keep yogis safe from slipping no matter how sweaty the routine.
Just because the BetterGrip mat is affordable doesn't mean it isn't made of high quality materials. This mat is durable and eco-friendly. It is 100% recyclable, biodegradable, and made of odorless UV resistant TPE material.
The BetterGrip mat is a great investment no matter what the level of yoga. It is reversible and multifunctional. Users utilize this same mat for yoga, Pilates and Barre. As always, the purchase of any product from Clever Yoga is backed up by a special, "Namaste warranty."
About Clever Yoga 
Clever Yoga is an innovative woman-owned and operated company, based in Tampa, Fla. 
Clever Yoga aims to offer superior, reliable products that make a difference in customers' lives. The Clever Yoga team uses meticulous market research and strict quality control and testing to create high-quality products.
Recently, the company has launched an online store using the largest online retailer, Amazon, as their platform. CleverYoga's online store can be found on Amazon.
Established in 2014, Clever Yoga's mission is to provide reliable, high quality yoga equipment, as well as excellent customer care.