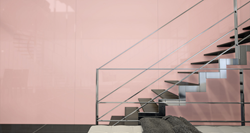 New York, NY (PRWEB) March 28, 2017
Building on hundreds of recent collaborations with architects and interior designers, Bendheim is announcing its first color collection for 2017: back-painted glass in soft pastel hues. The trend-sensitive palette is designed for today's health and comfort-focused design models. The collection is composed of 12 nature-inspired hues, from Robin's Egg Blue and Pale Green Tea, to Lavender Off-White and Palest Pink.
Bendheim's consultative design approach to architectural glass results in close relationships with design creatives throughout the country and hundreds of tailored glass solutions produced each week. This allowed the company's color experts to identify a surge in the demand for pastels in a variety of projects, from restaurants to tech startups.
"Pastels are filling design boards across building types and locations, often undetected because of their ability to gently blend in," said Steven Jayson, Vice President of Bendheim. "This collection is a direct response to what designers need today."
The company credits pastels' popularity to the rise of health and wellness-centered design. The effort to create warmer and more social spaces calls for the use of softer colors and materials. This philosophy guided Bendheim to pair its new pastel palette with its "Soft-Etched" SatinTech™ glass. The resulting back-painted glass feels silky-smooth to the touch, with noticeably muted reflections and subtle dimensionality. The durable, maintenance-friendly glass is also anti-glare and kinder to the eye.
As with all Bendheim back-painted glass, the new collection features the company's industry-leading, independently-tested paint formulations. They are designed specifically for architectural glass, and are applied to ultra-clear low-iron glass for precise color matching. The colors are ultra-durable: baked-in and UV-stable. The resulting hard-working glass surfaces are 100% VOC-free and naturally hygienic, enhancing occupant health, comfort, and safety.
"We believe we are responsible for developing new, environmentally safe colors and techniques in glass, and we're thrilled to deliver this on-trend collection," added Jayson. From the pastel shades to the soft, satin-smooth surfaces, it is an exciting twist on the back-painted glass architects and designers are accustomed to."
Bendheim produces the new "Vivid Pastels" back-painted glass in its vertically-integrated plant in New Jersey. Typical lead times are 3-4 weeks. The glass can be specified in sizes up to 60 by 120 inches (1.5 by 3 meters), in standard thicknesses of 1/4" (6 mm) or 3/8" (10 mm). An ultra-thin 1/8" (3 mm) thickness is also available; it is ideal for laminated glass applications required to meet strict safety codes and weight limitations, such as elevator interiors.
As a valuable partner, Bendheim's team brings decades of specialty architectural glass experience to building and design professionals. To learn more, please visit http://www.bendheim.com.