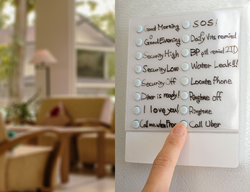 "...there is nothing I want to do more, than to help my mom and others become less paralyzed by technology." - Ryan, an early backer
Sunnyvale, CA, USA (PRWEB) March 27, 2017
Tantiv4 this month launched its first product on Kickstarter, a crowdfunding platform. With a week still to go, over 300 backers have funded 85% of the target.
FetchitGO provides a single view to control and trigger IoT devices, with 16 programmable buttons. Each button is customizable by the user, to trigger actions. Unlike other products available, FetchitGO can integrate with multiple ecosystems simultaneously, preventing vendor lock-in and enhancing the value for consumers. It also enables, through its use of data analytics and smartphone Apps, the ability to understand, predict and proactively trigger responses to consumer behavior.
This is a story best told in words of the backers of the product.
"I'm 71 (this week) and suffering a number of health issues - so I am attempting to build a home automation system that supports my wife's and my limited physical abilities to live in 5000 sq ft home on 3 levels. So having automation to take up some of the slack is my first choice. Your product fills the spot of not needing to have my tablet or phone to get things done very nicely", said Mr. Levy Rivers, a backer. "I have tasked my middle son and grandson to help me with the automation projects".
Currently, FetchitGO can be directly and simply utilized by users to control hundreds of devices like Philips Hue, Amazon Echo and Google Nest. FetchitGO operates via middleware services, supporting, among others, IFTTT and Node-RED. All this is available to the user with no additional programming or license fees.
"I just think it's an amazing idea, and the potential is enormous. I primarily only have Philips Hue bulbs in my house as smart devices. But the plan is to implement different devices along the way. So in terms of development, I'm just hoping it will speak to as many units as possible. But I don't know anything about the coding and all that stuff.", said Mr. Alexandar Norsk, who backed FetchitGO on Kickstarter.
Mr. Ryan Witham, an early adopter, brought out the basic use case in a very succinct manner- "...and i can help you because there is nothing I want to do more, than to help my mom and others become less paralyzed by technology."
Mr. Alex Kah from Louisville talked about the STEM educational aspect of the project- "First off I like the ability to configure repetitive home tasks in a central location outside of a smart phone. I also see it at a learning experience for my 8 year old daughter so we can configure the tasks together."
Mr. Swaroop Adusumili, COO, Tantiv4, explained the advantages of Simplicity, Open Interoperability and Integration, adding "the reception and comments from our backers has been awesome. They fall in two broad categories; the first set is the early adopters who want to bring the fruit of their home automation labor to their other family members who are not into technology. The second set are the STEM parents, who look at the device as getting their kids started on programming in simplest and most impactful way. It is wonderful to get response from so many different places in the world including Singapore, UK, Denmark, Sweden, India, USA, and Canada."
FetchitGO on Kickstarter
Tantiv4, headquartered in Sunnyvale, CA, is an early-stage startup dedicated to simplifying IoT technology use for the end-users.
# # #
For more information about this topic, please contact Lokesh Johri at +1 408 357 3759 or email at contact(at)tantiv4(dot)com.
FetchitGO is a trademark of Tantiv4 Inc. All other trademarks used are the property of their respective owners.