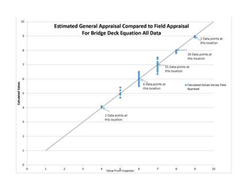 Rii developed knowledge-based software capable of calculating an overall condition state and compared it in real time with field values.
Columbus, Ohio (PRWEB) March 28, 2017
Resource International, Inc. (Rii), an engineering consulting firm headquartered in Columbus, Ohio, has developed a knowledge based system (KBS) that is proficient in estimating accurate General Appraisal values for bridge engineering experts.
A KBS is software that uses Artificial Intelligence and Expert System Techniques in the problem solving processes. Rii used this technology to integrate the knowledge of bridge engineering experts in estimating General Appraisal (GA) values.
There are many assets where there are no analytical means available to calculate the overall Condition State or GA. An inspection team first completes the rating of the Condition State of all elements using DOT and AASHTO manuals, and then a GA rating is entered, indicating the overall condition state. This number is often subjective, based entirely on the inspector's experience and own assessment of field conditions.
Rii developed knowledge-based software capable of calculating an overall condition state and compared it in real time with field values, Inspector-GA. This capability can be used for inspector training and self-auditing, as a way to conduct an over-the-shoulder verification of the inspector's rating or alert the inspector of missing data. The software capabilities were recently presented at the 2016 Ohio Transportation Engineering Conference (OTEC), and were well received by engineers from around the United States.
The KBS software was created by studying data from a large number of bridge decks and culverts and by reading each inspector's comment for every element. This software uses 13 sets of equations to arrive at real-time Calculated GA values, known as KBS-GA. The KBS software utilizes the age of structure or element, degradation models presented by researchers and quantitative measures of the Condition State of each element. The Condition State of each element is incorporated in the decision model by a quantitative appraisal of all observed distresses. The software also provides a real-time comparison of the KBS-GA with the Inspector-GA ratings.
Rii has implemented this KBS on various projects throughout the state of Ohio, and its proficiency has saved project time and resources. For more information about this system or to schedule a demonstration of this software in action please visit http://www.resourceinternational.com.
About Resource International, Inc.
Resource International, Inc. (Rii) is a broad-based, multi-disciplined professional engineering consulting firm specializing in construction management, information technology and planning and design of building and infrastructure projects valued in excess of $1 billion annually.
This family-run business has evolved over the years to assist public and private clients in finding optimum solutions to improve their environment and infrastructure. Our specialized equipment, technology and resources offer the best solutions.
Companywide, Rii has a vast pool of employees engaged in transportation planning, design, and construction services. Rii's Corporate Office is located in Columbus, Ohio, with full-service branch offices in Cleveland and Cincinnati, Ohio; Pittsburgh, Pennsylvania; and Indianapolis, Indiana.