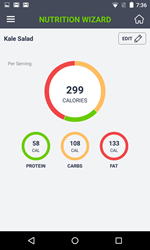 It's a real-time nutrition analysis tool that is free, fast and intuitive.
New York, NY (PRWEB) March 30, 2017
Edamam, a smart data provider for the food, health and wellness industries, released today a free mobile version of its Nutrition Wizard, used by health and food service professionals to analyze the nutrition of recipes and ingredient lists.
The Nutrition Wizard Free is available for both iOS and Android phones and tablets. It is a stripped down version of the web-based Nutrition Wizard and provides real time analysis only of calories and macronutrients. Edamam plans to offer in-app upgrades to the Plus and Pro versions of the Nutrition Wizard with full nutrition analysis, recipe management and specific features for dietitians and restaurants.
"We are responding to demand for a real-time mobile nutrition analysis tool that is free, fast and easy to use," commented Victor Penev, Edamam's CEO and Founder.
The Nutrition Wizard understands true natural language and users can type, copy/paste or even dictate a recipe or an ingredient list to get instant nutrition analysis of an eaten meal, a specific food or a recipe to be cooked. The voice recognition feature combined with the natural language input makes the mobile Nutrition Wizard the most intuitive nutrition analysis tool on the market.
"Our next step is to release full mobile versions of the Nutrition Wizard for our core users in food service and wellness. Many restaurant owners and dietitians have asked to be able to use the Nutrition Wizard as an app on mobile devices and it is coming soon," added Victor Penev.
Edamam's real time nutrition analysis technology is already used by a number of catering companies, restaurants and nutritionists managing diets for customers.
About Edamam
Edamam organizes the world's food knowledge and provides nutrition data services and value-added solutions to health, wellness and food businesses. Using a proprietary semantic technology platform, it delivers real-time nutrition analysis and diet recommendations via APIs. Edamam's technology helps customers answer for their clients the perennial question: "What should I eat?"
Edamam's partners and clients include The New York Times, Epicurious, Nestle, General Mills, Samsung and Random House.
For more information, please visit http://www.edamam.com or developer.edamam.com.
Media contact:
Victor Penev
victor(at)edamam(dot)com
+1.646.378.8317