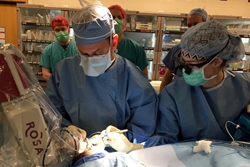 This service will increase our ability to optimize outcomes for patients in our pediatric, cardiac and neonatal intensive care units.
St. Louis, MO (PRWEB) March 29, 2017
Owing to an increase in demand for procedures and services, St. Louis Children's Hospital is expanding its Pediatric Epilepsy Center. The expansion will include additional surgical technology, two epileptologists, EEG technologists and an ICU EEG.
St. Louis Children's Hospital recently invested in state-of-the-art surgical technology to treat children with epilepsy. ROSA, or Robotized Surgical Assistant, has two roles in epileptic surgery: to map out the procedural route before surgery, and to assist during surgery. Children's epilepsy surgeons have performed upwards of 20 procedures with the help of ROSA since acquiring the technology almost a year ago.
"ROSA allows us to better see the onset and spread of seizures in three dimensions across the brain, while doing so in an efficient and minimally invasive fashion," says Rejean Guerriero, DO, a Washington University Physician and neurologist at St. Louis Children's Hospital. "It allows us to ask and answer questions about the relationship between cellular networks and their seizure susceptibility in remote parts of the brain that moves well beyond our prior abilities and technology."
ROSA creates a 3-D map for the surgeons to follow during a procedure, and holds the surgical tools precisely and firmly in place. The precision and strength of ROSA has made brain surgery safer than ever before. The technology enables surgeons to perform less invasive procedures, with smaller incisions and less bleeding. It has reduced surgery time by hours, and has helped patients recover in days rather than weeks. ROSA also reduces the patient's risk of pain and infection.
In 2016, epilepsy surgery volumes at Children's increased more than 30 percent from the previous year. To accommodate the growth in volume, the Pediatric Epilepsy Center is adding two epileptologists. Stuart Tomko, MD, who trained at Texas Children's and Boston Children's Hospitals, will begin working at St. Louis Children's Hospital in July. Dr. Guerriero, who finished his residency and fellowship at Boston Children's Hospital before coming to St. Louis Children's Hospital less than a year ago, will be spearheading the new ICU EEG program. The ICU EEG program, currently in a pilot phase, will debut at Children's this summer.
According to Bradley Schlaggar, MD, Chief of the Division of Pediatric and Developmental Neurology at St. Louis Children's Hospital, the ICU EEG program will allow physicians to identify and treat seizures more easily using EEG machines.
"This service will increase our ability to optimize outcomes for patients in our pediatric, cardiac and neonatal intensive care units," says Dr. Schlaggar. "It has become increasingly clear that neurocritically ill children have clinically unrecognized seizures with sufficient frequency that it is important to use EEG technology to identify those seizures."
Children's is adding several EEG technologists to identify the source of seizures in patients using EEG equipment. "We are transferring responsibility for patient observation in the epilepsy monitoring unit from our patient care techs to the EEG techs in order to improve the quality and consistency of the process," says Susan Hibbits, OTR/L, director of Neuroscience at Children's. With the addition of new technologists and equipment, St. Louis Children's Hospital plans to quickly and accurately identify seizures in patients in order to provide them with proper care.
As demand increases for advanced epilepsy treatment, St. Louis Children's Hospital will continually expand the Epilepsy Center to accommodate patients from the St. Louis region, across the United States and around the world.
ABOUT ST. LOUIS CHILDREN'S HOSPITAL
St. Louis Children's Hospital has provided specialized care for children for more than 130 years. US News & World Report ranks St. Louis Children's among the best pediatric hospitals in the nation. In 2015 the hospital again received the Magnet designation from the American Nurses Credentialing Center, the nation's highest honor for nursing excellence. St. Louis Children's Hospital is affiliated with Washington University School of Medicine, one of the leading medical research, teaching and patient care institutions in the nation. The hospital is a member of BJC HealthCare. For more information, visit StLouisChildrens.org, or find us on Facebook and @STLChildrens on Twitter.