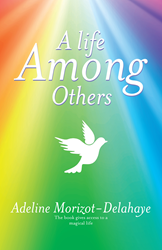 (PRWEB) March 27, 2017
In what she describes as extraordinary life events, author Adeline Morizot-Delahaye was inspired to focus on the purpose of our existence, prompting "A Life Among Others."
In her first book, Morizot-Delahaye writes about spirituality, reincarnation, and the presence of angels on our side. "A Life Among Others" highlights Morizot-Delahaye's life and adventures as she shares some of her happiest moments and encounters with reincarnation.
Through her knowledge of history, Morizot-Delahaye delves into messages and signs she received of the invisible worlds, helping her discover the quest of oneself. Morizot-Delahaye said she hopes readers will be inspired to see the importance of having faith in any circumstance.
"Writing this book was a form of therapy as it helped me see some circumstances more clearly," said Morizot-Delahaye. "By paying attention to different signs and moments, I was able to understand that our lives are intimately linked to others."
Readers will enjoy Morizot-Delahaye's deeper insights on reincarnation as shares a deeper look into her personal experiences.
"A Life Among Others"
By: Adeline Morizot-Delahaye
ISBN: 978-1-5043-5887-3 (sc); 978-1-5043-5888-0 (e)
Available on Balboa Press, Amazon, and Barnes and Noble
About the author
"A Life Among Others" is Adeline Morizot-Delahaye's first book. She enjoys traveling, mountain hiking, and skiing.
###
Review Copies & Interview Requests:
LAVIDGE – Phoenix
Courtney Coombes
480-998-2600 x 612
ccoombes(at)lavidge(dot)com
General Inquiries:
LAVIDGE – Phoenix
Maggie Driver
480-998-2600 x 584
mdriver(at)lavidge(dot)com