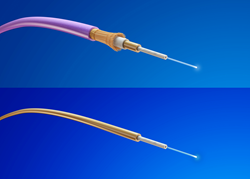 Pleinfeld, Germany (PRWEB) March 27, 2017
W. L. Gore & Associates, Inc. (Gore) will display its expanded portfolio of GORE® Aerospace Fiber Optic Cables for civil aircraft applications at the 2017 AIX (Aircraft Interiors Expo) in Hamburg, Germany on 4-6 April in Booth 2D60.
Gore's family of single- and multi-mode fiber optic cables meets the civil aerospace industry's need for reliable high-speed data transmission in smaller, lighter weight, yet durable constructions. They transmit lightning-fast data in less time over longer distances to support the next generation of aircraft data architecture.
Engineered for the harshest aerospace environments, Gore's robust fiber optic cables resist crushing, kinking and abrasion while delivering exceptional signal integrity before and after installation. The small cable diameter increases flexibility with a tight bend radius making initial routing easier, particularly when retrofitting cables in overcrowded areas surrounding aircraft electronic systems.
An Expanded Portfolio
With an innovative dual buffering system, GORE® Aerospace Fiber Optic Cables, 1.8 mm Simplex meet ARINC 802-2 requirements and are proven to provide greater crush resistance for extended service life. Gore's legacy 1.2 mm Simplex cables incorporate a variety of optical fibers in a rugged construction compatible with standard aerospace connectors. Gore's 900 micron buffered fiber optic cables allow for a smaller form factor preferable for inside-the-box applications while still being compatible with standard ARINC 801 termini. Lastly, GORE® Aerospace Fiber Optic Ribbon Cables provide durable, long-lasting protection with up to 12 channels while maintaining high-speed communications on aircraft networks.
Gore's expanded portfolio of fiber optic cables complements its extensive collection of aerospace cables and materials, including Ethernet, USB, HDMI, high-frequency microwave airframe assemblies, aircraft sealants and more. For more information about Gore's high-performance solutions, visit Booth 2D60 at AIX or online at gore.com/aix2017.
About W. L. Gore & Associates, Inc.
Gore is a technology-driven company focused on discovery and product innovation. Well known for waterproof, breathable GORE-TEX® fabric, the company's portfolio includes everything from high-performance fabrics and implantable medical devices to industrial manufacturing components and aerospace electronics. Founded in 1958 and headquartered in Newark, Delaware, Gore employs more than 10,000 associates with manufacturing facilities in the United States, Germany, the United Kingdom, Japan and China, and sales offices around the world. Gore is one of a select few companies to appear on all of the U.S. "100 Best Companies to Work For" lists since the rankings debuted in 1984. The company also appears regularly on similar lists around the world. Learn more at gore.com .