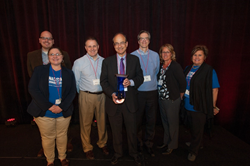 Chandler, AZ (PRWEB) March 28, 2017
Jim Jacobs, President,Macomb Community College, was awarded the 2017 Educational Testing Service O'Banion Prize at the League's Innovations Conference in San Francisco, California, March 13, 2017.
Named in honor of Dr. Terry O'Banion, President Emeritus and Senior Fellow of the League for Innovation in the Community College, the Educational Testing Service O'Banion Prize is given to an individual who has greatly influenced a transformation in teaching and learning, or to a college that best exemplifies the ideals and characteristics of a learning college as established by O'Banion and the League.
Jacobs has served as Macomb Community College's President since 2008. Prior to his appointment, he concurrently served as Director for the Center for Workforce Development and Policy at the college, and as Associate Director, Community College Research Center (CCRC), Teachers College, Columbia University, where he currently serves as a member of its board of directors.
He is a Past President of the National Council for Workforce Education and a member of the Manufacturing Extension Partnership Advisory Board of the National Institute of Standards and Technology and the National Assessment of Career and Technical Education. He is also a member of the Community College Advisory Panel to the Educational Testing Service in Princeton, New Jersey.
The Educational Testing Service O'Banion Prize is presented annually at the Innovations Conference.Innovations is an international conference dedicated to innovative approaches for teaching, learning, and enhancing the community college experience.
About the League for Innovation in the Community College
The League for Innovation in the Community College (League) is an international nonprofit organization with a mission to cultivate innovation in the community college environment. The League hosts conferences and institutes, develops print and digital resources, and leads projects and initiatives with almost 500 member colleges, 100 corporate partners, and a host of other government and nonprofit agencies in a continuing effort to advance the community college field and make a positive difference for students and communities. Information about the League and its activities is available at http://www.league.org.