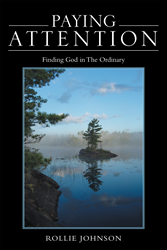 FARGO, N.D. (PRWEB) March 28, 2017
After serving in ministry for more than 35 years, author and lay pastor Rollie Johnson has released his new book called "Paying Attention: Finding God in the Ordinary." The book addresses a common misconception that we can only find God inside church walls, or in extraordinary, grandiose events.
"Paying Attention" teaches its readers that we can find God in the most commonplace moments of our lives. Johnson uses his observations as an avid outdoor adventurer and pastor to dispel the myth that God is only present in dramatic situations.
"In my time in the church, I have found that many folks are looking for God in overstated ways, like miraculous signs and burning bushes," Johnson said. "I believe his grace is often hidden in the simple things—like taking a walk in the woods, going for a run, or quietly savoring a cup of coffee on the deck."
His inspiration for the book comes from a major theme in his ministry — outdoor adventure. He believes embarking on backpacking trips, retreats, and mission trips with his ministry will teach them much more about God and help develop their faith.
Johnson hopes "Paying Attention" will encourage readers to set aside their electronics and screens and enjoy the natural world of Creation God has created for them. "It is so important for us to put down our phones, unplug for a while, and spend time admiring the world he loves so much."
"Paying Attention: Finding God in the Ordinary"
By Rollie Johnson
ISBN: 978-1-51276-900-5
Available at WestBow Press and Amazon
About the author
Rollie Johnson has served in ministry the past 35 years and is currently a Lay Pastor at First Lutheran Church in Fargo, ND. His duties include overseeing and leading Contemporary Worship, preaching and Men's ministry. His ministry focus is using outdoor adventure, which includes backpacking, canoeing, rock climbing and winter camping as metaphors for life and faith. Johnson is accomplished writer and his articles have appeared in numerous outdoor and hunting magazines. He and his family make their home in Moorhead, MN.
###
Review Copies & Interview Requests:
LAVIDGE – Phoenix
Kalin Batts
480-998-2600 x 524
kbatts(at)lavidge(dot)com
General Inquiries:
LAVIDGE – Phoenix
Chris Peña
480-998-2600 x 519
cpena(at)lavidge(dot)com